Over the years the CMLR has developed research expertise and knowledge that has spanned the realms of Environmental Geochemistry ("To understand and predict the source, transformations and fate of contaminants"), Landform Stability and Evolution ("To identify properties and processes which define stability of successfully-functioning landforms"), Soil-Plant Systems ("To develop technological solutions for rehabilitating anthropogenic soil-plant systems"), and Landscape Ecology ("To rigorously assess the long-term outcomes of mining activities on ecosystem function").
More recently, these themes were further developed and built into three Groups, namely Ecosystem Assessment, Restoration and Resilience, Ecological Engineering of Mine Wastes (Soil Plant Systems) and the cross-disciplinary, Life Cycles of Mines and Metals.
Life Cycle of Mines and Metals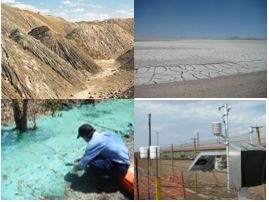 The group has an integrative focus on environmental impacts, social implications, technical innovations and economic factors along the metal value chain and over the life of a mining project or operation; understand and create enhanced value from mining waste (waste rock, overburden and tailings) and recovery of metals from end-of-life products.
---
Projects within this Group
Developing a process for estimating long‐term salinity generation rates to predict salinity levels in coal mine final voids and the residual risk to receiving surface water or groundwater environments.
Building a tool for knowledge sharing and dissemination of mine rehabilitation and closure in the coal industry mrcwiki.org.au
Identifying the links between climate change, raw material supply and environmental risks.
Examining the feasibility of mine tailings reprocessing to improve overall metal recovery and minimise the residual environmental risk.
Identifying economically viable options for the recycling of metals from end-of-life products and industrial waste in Australia wealthfromwaste.net
Group Leader
Associate Professor Glen Corder
Team
Dr Mansour Edraki
Dr Artem Golev
Dr Barry Noller
Keywords
circular economy, industrial ecology, rehabilitation, remediation; mine closure, mine wastes, tailings, human health, environmental toxicology, cyanide, acid and metalliferous drainage (AMD), geochemistry, heavy metals, metalloids, salts, recycling, e-waste; value chain
Ecosystem Assessment, Restoration and Resilience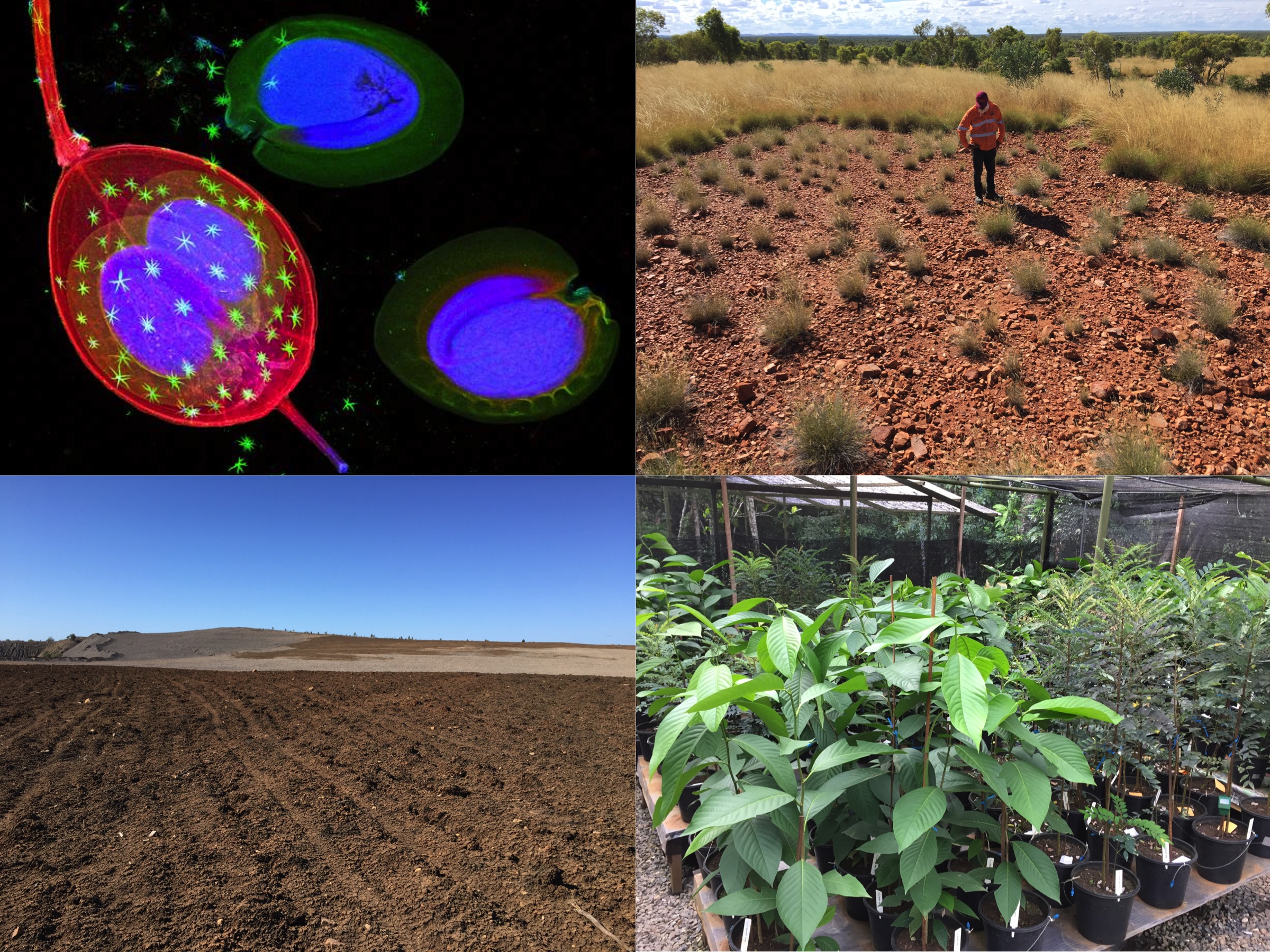 This group currently focuses on two key areas: the discovery and utility of metallophyte plants; and, the recovery and sustainability of disturbed land. The group further leads a suite of projects that assess the environmental impacts of mining activities and disturbance on ecosystems, from which innovative approaches to restore ecosystem services are developed.
---
Projects within this Group

Identification of wildlife crossing locations to mitigate the effects of a proposed expressway
The Kenya project work assesses the environmental impacts of anthropogenic activities and disturbance on ecosystems, particularly in the context of new infrastructure rather than mining. We are modelling the movements of a suit of mammal species to understand the effects that a proposed Expressway will have on wildlife across a large area of Kenya.
This modelling will be used to the propose mitigation strategies and assess the most appropriate locations for the placement of wildlife crossings. 
Hyperaccumulators are unusual plants that accumulate particular metals or metalloids in their living tissues to levels that may be orders of magnitude greater than is normal for most plants growing on similar soils. Discovering hyperaccumulators and understanding their agronomy could lead to identifying potential species to be utilized in novel phytotechnologies such as phytomining for phytoextraction of valuable metals.
Currently, there are approximately 450 documented Ni hyperaccumulators worldwide. The majority of the nickel hyperaccumulators have been recorded in Cuba (130), Southern Europe and Minor Asia (80–90), and Malaysia (24). In New Caledonia there are 65 documented Ni hyperaccumulators. One of the most unusual is the tree Pycnandra acuminata, endemic to New Caledonia, which has a latex that contains up to 25.7 Wt% nickel colouring it blue-green from nickel ions.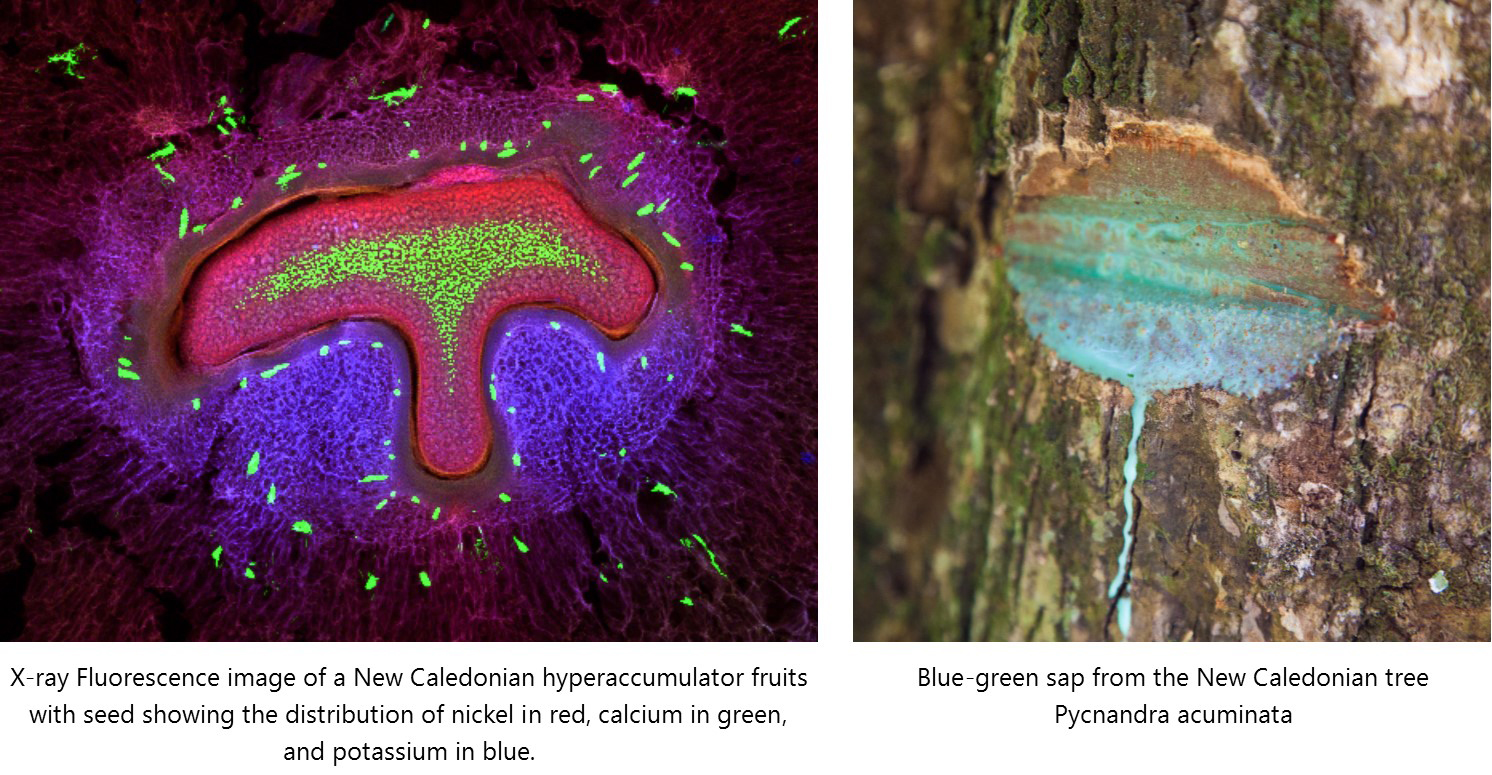 The current research has been undertaken as part of Vidiro Gei's PhD project. Her study aimed to spatially resolve the elemental distribution in five different New Caledonian nickel hyperaccumulator plant species using synchrotron-based micro-X-ray Fluorescence imaging. The experiments were undertaken at X-ray fluorescence beamline (P06) of PETRA III (Deutsches Elektronen-Synchrotron; DESY) in Hamburg, Germany with collaborators from New Caledonia and France.
Read more in the BBC news story "The tree that bleeds... metal?"  https://www.bbc.co.uk/news/science-environment-45398434
Project members: Dr Antony van der Ent, Associate Professor Peter Erskine & Vidiro Gei
How do engineered landscapes respond to fire? This project aims to test established rehabilitation by applying fire and measuring the vegetation and landform response in the 2 years following the burn.  The project is using high spatial and temporal spectral imagery captured by drone along with ground surveys to assess fire severity and recovery, and determine the long-term impacts on lease relinquishment for a number of sites in Queensland and New South Wales. Fires have been conducted at Curragh Mine, Glencore Newlands Mine (night burn photos) and Ensham Mine.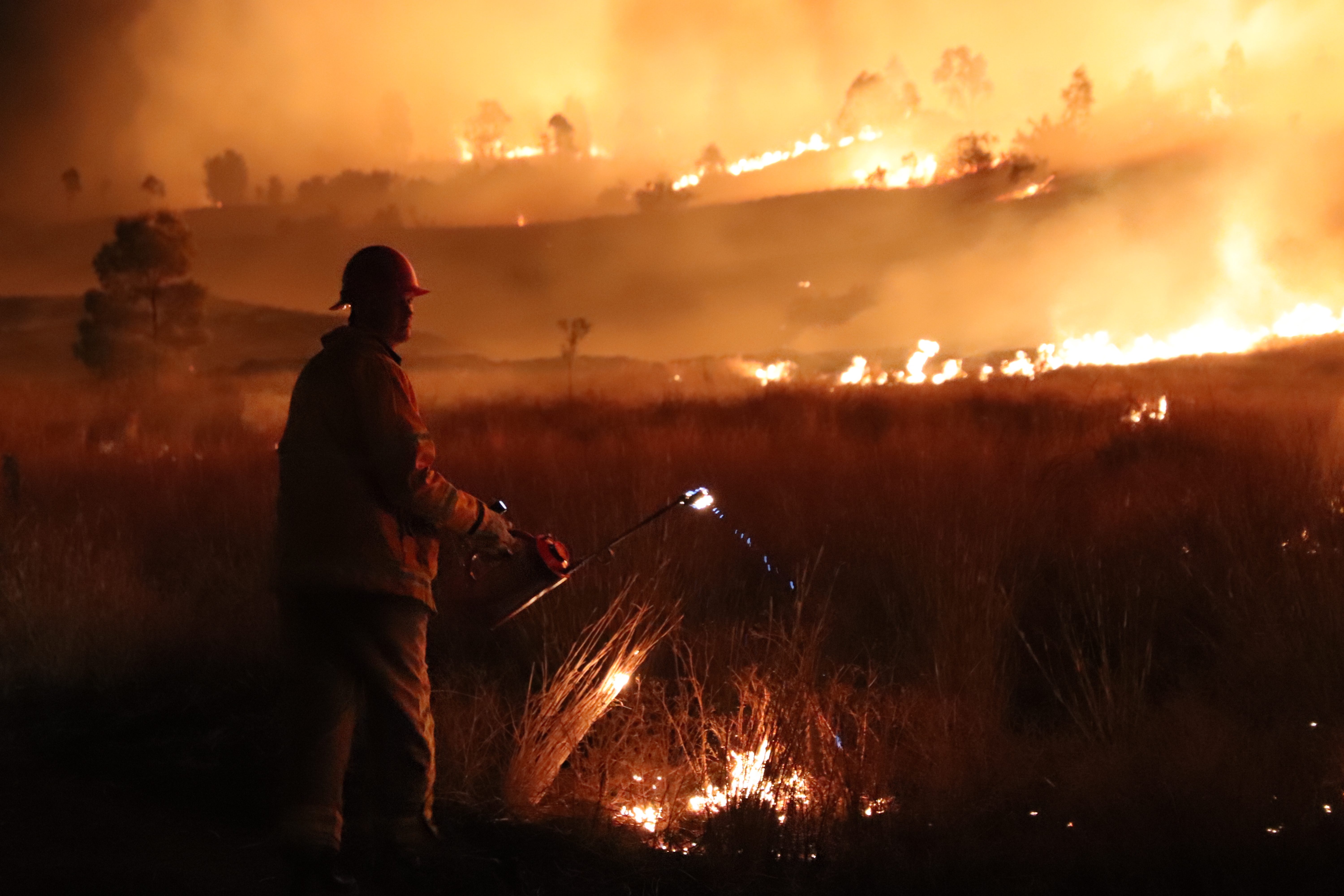 Application of X-ray fluorescence technology on herbarium collections
Growth trials using nickel hyperaccumulator plants in Sabah, Malaysia
Ecological Engineering of Mine Wastes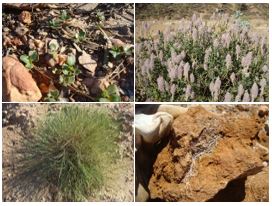 This group currently focuses on the discovery of new knowledge and technologies relating to ecological engineering and the rehabilitation of metal mine tailings and alumina refinery residues. Projects encompass bioweathering of primary minerals in tailings, eco-engineered pedogenesis of tailings, bio-geo-polymerization of tailing minerals for hardpan formation, and the biogeochemistry of the tailings-soil-plant continuum.
---
Projects within this Group
In situ
engineering red mud into functional soil - A new technology for cost-effective rehabilitation of red mud domains
Evaluation of key attributes of nutrient cycling in revegetated waste rock landform of Ranger uranium mine
Eco-engineering soil from mine tailings for native plant rehabilitation
Building the framework for meeting closure criteria in waste rock dump design and performance
Developing options and strategies for red mud bioremediation
Related available student projects
Bio-mineral-organo complexation models in tailings
Molecular microbial mechanisms in mineral bioweathering and secondary mineral formation
Mechanisms of water-stable aggregate formation in red mud
Geo-rhizosphere biology in native/metallophyte species in mineralized soil and metal mine tailings
Biogenic mineral forms and speciation in metal mine tailings
Rhizosphere adaptation to tailing technosols in native plant species
Biogenic factors in duricrust formation: from nature to tailings surface
Bio-geo-mineral cross-linking mechanisms and hardpan formation in tailings
Relationship between soil microbial community structure and trajectory of plant species diversity in revegetated mined land
Group Leader
Associate Professor Longbin Huang
Team
HDR Students
Keywords
metal mine tailings, bauxite residue (red mud), mineral bioweathering, geo-microbial ecology, environmental microbial ecology, microspectroscopy, bio-mineral-organo interactions, geo-rhizosphere biology, engineered pedogenesis, technosols, hydrogeochemistry, bio-geopolymerization, hardpan, rhizosphere of metallophytes, soil-plant systems
CMLR postgraduate research students currently enrolled in a PhD or MPhil (and project title):
Our Current HDR Students are:
| | |
| --- | --- |
| Name | Project Title |
| Farida Abubakari | Developing tropical zinc biofortified crops |
| Raphael Akesseh | Geochemical and hydrological study of mine tailings and capping design strategy for proposed tailing facility system closure |
| Mohammad Boshrouyeh Ghandashtani | Polymer amended tailings stability for optimum rehabilitation outcome |
| Tamar Cohen | Re-imagining mined land: relating cultural and ecological criteria for the successful rehabilitation of mined land |
| Amelia Corzo Remigio | Management of Mine Waste through Geochemistry and Phytoremediation  |
| Bevan Roy Emmerton | Bowen Basin Coal Mine spoil classification for improved mine rehabilitation outcomes |
| Vidiro Gei | Elemental fingerprinting of the New Caledonian flora |
| Zhengdong Han | Australian Red Mud Dewatering and Reuse In Wastewater Treatment |
| Maggie-Anne Harvey | Development of selenium agromining in Queensland, Australia |
| Melinda Hilton | Prediction of long-term salt generation from coal spoils |
| Amelia Hine | Earthworks - envisioning innovative design solutions for the post mining landscape |
| Karan Jian | Salt crusting and its impact on water flow |
| Allen Yunjia Liu | Processes of arsenic (As) transformation in copper tailings amended with organic matter and As uptake by native plants |
| Adrian Paul | Rhizosphere processes leading to nickel uptake by hyperaccumulator plants: shining light on the soil-root interface |
| Gabriel Perez Murillo | Modelling transport and transformation of mine tailings |
| Lachlan Robertson | Rhizosphere adaptation of pioneer plant species to metal mine tailing-soil |
| Pieter Swart | The development of a standardised process for the quantification of residual environmental risks and the proposed treatment thereof at mine closure and mine lease relinquishment. |
| Roger Tang | Using Zinc-Lead-Copper Metallophytes for Biogeochemical Prospecting and Mine Site Rehabilitation |
| Maria Cristina Vegafria | The development and implementation of geo-environmental assessment tools for abandoned mines |
| Sicheng Wang | Microbial community dynamics during remediation of bauxite residue |
| Qing Yi | Microbial driven transformation of ferrous minerals in magnetite tailings for soil formation |
| Yifang Zeng | Physiological responses of alkaline and saline tolerant plant species in eco-engineered seawater-neutralized Bauxite residues |
CMLR PhD research students with submitted theses under examination