Alexandre Vidigal de Olivera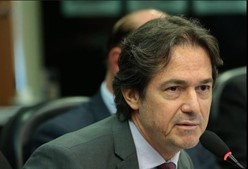 Alexandre Vidigal de Oliveira was born in Brasilia/DF, Brazil, and is the National Secretary for Geology, Mining and Mineral Transformation of the Ministry of Mines and Energy (MME) of Brazil, since January 2019. He is also member and Chairman of the Pré-Sal Petróleo´s Fiscal Council, Chairman of the Administrative Council of the Geological Service of Brazil (Brazilian Company for Research on Mineral Resources – CPRM), as well as National Coordinator of the Working Group 15 of MERCOSUR on mining. He was Federal Judge for almost 28 years, until January 2019, in several provinces of Brazil, such as Brasilia, Mato Grosso, Paraná and Rio Grande do Sul.
He has extensive professional experience in the federal public sector, notably on analysis and decision making regarding high complex issues in the public-private domain, such as biddings, contracts, regulations, controls and public policies, including in what refers to the energy, oil and mining sectors, as well as in constitutional, administrative, tax law, budgetary and financial, criminal, mediation and conciliation issues.  
Referring to governance issues, he has worked as leader in public management affairs, having specialised, in this context, in areas such as corporative integrity, monitoring, control and repercussions. He has made several lectures in official courses on compliance destined to public managers.
He has a Doctorate Degree on Law, by the University Carlos III, in Madrid, whose title was officially validated by the Federal University of Brasília – UnB. He also participated in specialization and academic-professional qualification courses.
He has published dozens of legal articles in specialized magazines and websites. His more recent published texts on civil and administrative accountability due to illegal acts practiced against the Public Administration have been broadly acclaimed.
He was member of several committees devoted to study and/or work on innovation, betterment and optimization of functioning structures of the public sector, aimed at improving its efficiency. 
He was also member of public exams preparation boards, and has taught classes at training and improvement courses for the Judiciary, the Federal Prosecutors Office and the Brazilian Council of Lawyers (OAB).
Portuguese
Alexandre Vidigal de Oliveira, jurista e gestor público, é Secretário Nacional de Geologia, Mineração e Transformação Mineral do Ministério de Minas e Energia (MME), Presidente do Conselho Fiscal da Pré-Sal Petróleo-PPSA, Presidente do Conselho de Administração da Companhia de Pesquisa de Recursos Minerais - CPRM e Coordenador- Geral do Grupo de Trabalho-15 (Mineração), do Mercosul. Exerceu o cargo de Juiz Federal por quase 28 anos, até janeiro de 2019, tendo atuado em Brasília, Mato Grosso, Paraná e Rio Grande do Sul.
É doutor em Direito pela Universidad Carlos III de Madrid, com título convalidado pela Universidade de Brasília-UnB. Tem mestrado e duas especializações em Direito.
Tem vasta experiência profissional no setor público federal, notadamente na análise e decisão de questões de alta complexidade na relação público-privada, como licitações, contratos, regulação, fiscalização e políticas públicas, inclusive no setor de energia, de petróleo e de mineração, em temas constitucionais, administrativos, tributários, orçamentário-financeiros, criminais, mediação e conciliação.
Na área de governança foi dirigente em gestão pública e dedicou-se aos estudos em integridade corporativa, seu monitoramento, controle e repercussões, proferindo palestras sobre o tema em cursos oficiais.
Tem dezenas de artigos jurídicos em revistas e sites especializados, destacando-se suas últimas publicações em temas de responsabilização cível e administrativa por ilícitos praticados contra a Administração Pública.
Integrou Comissões de estudos e/ou trabalho de inovação, aperfeiçoamento e otimização de estruturas e funcionamento do setor público, para melhoria da eficiência de seus serviços.
Compôs bancas elaboradores de provas de concursos públicos, e ministrou aulas em cursos de formação e aperfeiçoamento para a magistratura, Ministério Público e OAB.