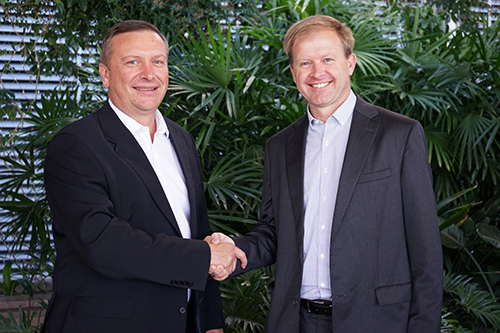 The BHP Billiton Mitsubishi Alliance (BMA) has signed a Memorandum of Understanding (MoU) with The University of Queensland's Sustainable Minerals Institute (SMI), that will pave the way for greater collaboration between the two organisations.
The MoU will facilitate a range of activities, with the sharing of world class research by SMI among the key benefits for BMA according to Head of Production Integration Frans Knox.
"The Sustainable Minerals Institute has an outstanding reputation internationally for its research into sustainable resource development, and this agreement will give BMA access to cutting edge learning in our field.
"We welcome the opportunity to build our relationship further, and look forward to working closely with SMI as we continue to strive for the highest standards of sustainability and technical excellence," he said.
SMI Director Professor Neville Plint lauded the opportunity to strengthen the institute's links with industry.
"As an independent multi-disciplinary group with an in-depth knowledge of the minerals industry, we seek to work with our partners to find solutions to global challenges facing the sector.
"Our researchers work across the life of mine, resulting in unique capabilities and collaborations to create change for responsible resource development.
"So we see formalising our long-standing relationship with BMA through this commitment as an important step forward," Professor Plint said.
UQ's Sustainable Minerals Institute is made up of six inter-disciplinary centres and an international centre of excellence. It brings together engineers, scientists and social scientists to find solutions to the sustainability challenges of the global minerals industry.
Under the MoU the two organisations will co-operate in four areas:
1. Collaborative research, associated activities and publications related to technical and productivity enhancements, corporate social and environmental performance and sustainable development initiatives generally;
2. Joint meetings, workshops, seminars or other academic meetings to share ideas and knowledge.
3. Visits between institutions by research, technical and administrative staff;
4. Sharing of institutional reports, data and academic materials.
"The ability to tap into a network of thought leaders around the world and agreements that The University of Queensland has in place with other institutions was a key benefit of the MoU.
"We are thrilled that this agreement will help to extend our reach globally." Mr Knox said.
A series of workshops will be held in the coming months to investigate research project options, which will give shape to the direction of the new agreement.
The MoU is effective for five years.
Media: Travis McNamara +61 455 222526 / Travis.McNamara@bhp.com, Gillian Ievers +61 406 510668 / g.ievers@uq.edu.au
About BMA
The BHP Billiton Mitsubishi Alliance (BMA) is a 50-50 joint venture between BHP Billiton Limited and Mitsubishi Development Pty Ltd that was formed in 2001. BMA is Australia's largest seaborne exporter of metallurgical coal and operates seven Bowen Basin coal mines – Blackwater, Broadmeadow, Caval Ridge, Daunia, Goonyella Riverside, Peak Downs and Saraji, as well as the Hay Point Coal Terminal. The alliance also owns two non-operating mines, Gregory Crinum and Norwich Park.