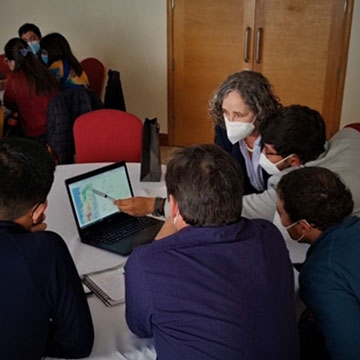 A series of recent water planning-tool workshops in Atacama, Chile, has garnered enthusiastic, positive feedback from mining and public participants.
The Sustainable Minerals Institute's Centre of Excellence in Chile (SMI-ICE-Chile) is exploring how to integrate the region's water supply planning using two tools, working with private and public sectors.
Project lead Dr Doug Aitken said analysis of the tools has also, so far, demonstrated a high potential for financial and environmental cost savings.
The project team presented to and tested the simplified prototype planning tool with workshop participants from the mining industry and public sectors.
"They were very interested in the concept, and wanted to be involved in initiatives to advance the concept towards implementation, and many want to join the project partner network," Dr Aitken said.
The project will now continue the work to develop a publicly available and usable comprehensive planning tool that focuses on supporting water supply planning and decision-making in the Atacama region.
"We believe that using integrated water supply systems could save money and should be better for the environment than multiple individual systems," Dr Aitken said.
"Because of these promising results from the project so far, we expect that it will continue beyond the initial stage and the Atacama Region.
"These tools can be implemented in other regions and there is even potential to implement the integrated water planning tools in other countries in Latin America in the future," Dr Aitken said.
The aim of the tools is to benefit society and the environment by supporting sustainable socioeconomic development of arid mining zones – against the background that many of Chile's mineral deposits are located in areas of very high water stress.
"Optimising how water is shared in these areas is crucial to address the new social and environmental impacts that have arisen from mining companies building numerous desalination plants and related infrastructure," Dr Aitken said.
The project brings together SMI-ICE-Chile with partner M.C. Inversiones (a subsidiary of the Mitsubishi Corporation) on a three-year project to develop water supply planning software to analyse and communicate the opportunities that exist to develop integrated and optimised water supply systems.
Further information: Dr Doug Aitken, d.aitken@smiicechile.cl