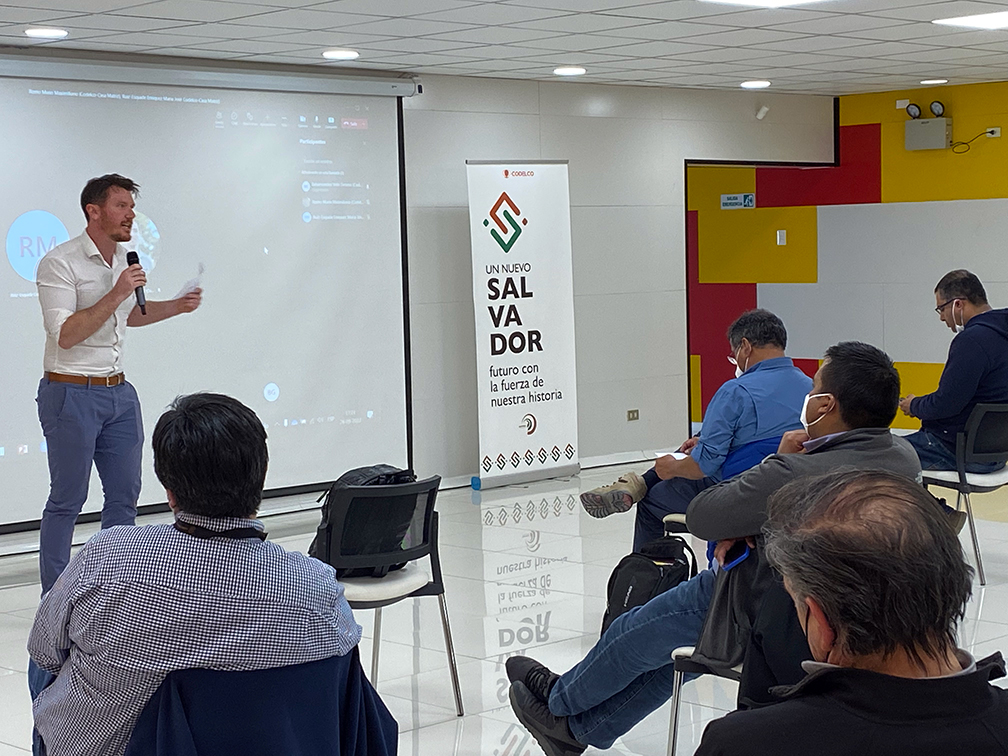 The Sustainable Minerals Institute International Centre of Excellence in Chile (SMI-ICE-Chile) has partnered with the world's largest copper mining company, CODELCO, to help them achieve six commitments related to the United Nations (UN) Sustainable Development Goals (SDGs). 
As part of the partnership, SMI-ICE-Chile researchers will provide guidance and technical support to CODELCO's Salvador Division as it works towards fulfilling six of their sustainability goals by 2030, including developing a circular economy, ensuring more sustainable tailings management, reducing their carbon and water footprints, reducing emissions, and bringing more value to local communities.
Located in the Atacama region of Chile, CODELCO's Salvador Division is in a unique position to commit to more sustainable practices as they shift their focus from a recently closed 60 year-old underground mine to 'Rajo Inca', a new open-pit operation for the same deposit.
SMI-ICE-Chile General Manager Dr. Douglas Aitken said the project provides an opportunity for the team to apply its multidisciplinary strength and expertise, and collaborate with local and international partners.
"CODELCO Salvador is facing several challenges as they attempt to introduce more sustainable practices and processes to their operations," said Dr. Aitken.
"These include implementing the circular economy principles across the entire operation, finding suitable local markets for used products and materials, addressing the use of fossil fuels in transportation and introducing alternative renewable energy options, and reducing water consumption in a relatively complex operating environment.
"To address these challenges, we will work with the operational teams from CODELCO Salvador as well as our SMI colleagues in Australia to develop a strategy that doesn't just look at each individual element, but also at how those elements connect and influence each other.
"Not only will this help the Division transition to more sustainable operations, but it will also help build a solid relationship that can be valuable in the future.
"The project will help the Salvador Division become a leader within the CODELCO group and within the Chilean mining industry on the issue of sustainability, and hopefully positively influence other operations around the country."
SMI-ICE-Chile Co-leader – Processing: Energy, Water, and Emissions, José Ojeda, said SMI-ICE-Chile has a unique opportunity to build a strong, sustainable baseline for CODELCO's new operation.
"Much like with the target of reducing particular matter emissions, reducing CODELCO's carbon and water footprint will provide us with an opportunity to introduce new initiatives and strategies to a relatively new operation," Mr. Ojeda said.
"Rather than attempting to change processes and practices at operations that have been in-place for some time, this will allow for CODELCO to get things right from the beginning and establish a new sustainable baseline at Rajo Inca.
"Additionally, complying with new international tailings standards will improve performance in all aspects of mine waste management, from design to closure, and contribute to better environmental outcomes.
"Prioritising safe tailings facilities will lead to better engagement with government and community stakeholders, simultaneously reducing risks and improving their reputation, while also possibly generating opportunities for future value recovery."
SMI-ICE-Chile Social Performance researcher Camila Cabrera said increasing engagement with local communities is a mutually beneficial priority. 
"For CODELCO's Salvador Division, the focus of bringing more value to local communities will be increasing purchasing of goods and services from local suppliers, mainly through campaigns to attract small and medium-sized companies and update their contractual plans," Ms. Cabrera said.
"However, they are also increasing their local workforce through outreach opportunities such as job fairs and training days."
If you'd like to learn more about this project or discuss SMI-ICE-Chile's capabilities, contact Dr. Doug Aitken at d.aitken@smiicechile.cl.