How cognitive biases are crippling the mining industry
27 May 2022

9:00am

–

10:00am
Speaker:  Dr Guy Desharnais, Vice President Project Evaluation, Osisko Gold Royalties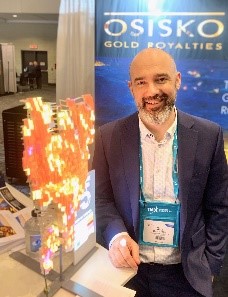 Abstract: The mining industry is strewn with failed projects, and many more that are chronically underperforming. Cognitive science shows how our brains stumble into irrational choices. Cognitive biases that are detrimental to mining include:  Anchoring Effect, Courtesy Bias, Survivorship Bias and the Ikea Effect. The mining industry will continue to disappoint until it deals with the human factors that deform our assumptions and decision calculus.
Bio:  Dr Guy Desharnais worked as an exploration geologist with Xstrata Nickel (Glencore) for five years, before transitioning to consulting work. He managed the SGS Geostat team for several years, working on a wide range of projects internationally, from resource estimations, economic evaluations, metallurgical sample selection, geometallurgical studies, and audits of resources and reserves. Guy is currently working as Vice President of Project Evaluation with Osisko Gold Royalties, and is on the Mining Technical Advisory and Monitoring Committee for the Canadian Securities Administrators.
About JKMRC Friday Seminars 2022
Welcome to the 2022 Series of the JKMRC Friday Seminars.  The list of presentations will aim to cover a range of topics related to the minerals sector from decision making in exploration, new mineral processing technologies, social licence to operate and mine closure.
The JKMRC Friday Seminars will be presented both in person, at the Indooroopilly Mine Site Lecture Theatre, and also as webinar.  Registration for the webinar is required and can be made via the registration link in each seminar overview.
A large number of past webinars can be accessed on the SMI website: https://smi.uq.edu.au/webinars
Previous seminars have been uploaded to YouTube via the following link: https://www.youtube.com/user/smiuq
If you would like to be included in our email invitation list: