Speaker:  Dr Snezana Bajic, Deputy Chief Inspector Explosives, Resources Safety & Health (RSHQ) Queensland
Abstract:  Career paths hold many rocks which need crushing. I put my dreams on the line and challenged my motivation to break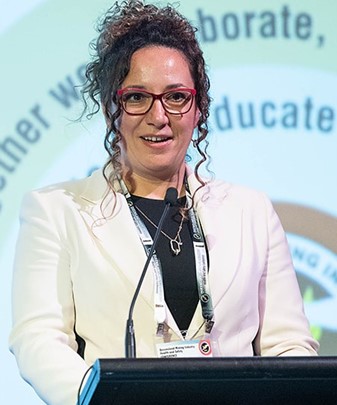 career stereotypes on the way to success, becoming the first female Deputy Chief Inspector in Queensland. The journey started 25 years ago with mining in mineral processing, continued at JKMRC only to be elevated to exceptional achievements beyond my imagination.
Bio:  Dr Snezana Bajic has over 20 years of operational and research mining and mineral processing experience. Snezana is leading the operational side of the Explosives Inspectorate.  She is involved in all explosives related investigations, complex blast notifications, and has oversight of all inspections and audits across Queensland. 
Prior to this role, Snezana was the Technical Services Manager at Simtars where she and her team were responsible for providing mine technical support services including gas monitoring and spontaneous combustion, emergency support services, consulting, ACARP research and development for the industry. She was involved in organising and assessing Level 1 emergency exercises over the years and worked closely with QMRS, industry and government representatives. Snezana spent many years at JKMRC consulting and conducting research in comminution.
Snezana holds a PhD in Mineral Processing (UQ), Bachelor of Science (Mining Engineer of Mineral Processing, Dipl. Ing. Rudarstva za PMS) degree (The University of Belgrade), and Graduate Certificate in Business (QUT).
About JKMRC Friday Seminars 2022
Welcome to the 2022 Series of the JKMRC Friday Seminars.  The list of presentations will aim to cover a range of topics related to the minerals sector from decision making in exploration, new mineral processing technologies, social licence to operate and mine closure.
The JKMRC Friday Seminars will be presented both in person, at the Indooroopilly Mine Site Lecture Theatre, and also as webinar.  Registration for the webinar is required and can be made via the registration link in each seminar overview.
A large number of past webinars can be accessed on the SMI website: https://smi.uq.edu.au/webinars
Previous seminars have been uploaded to YouTube via the following link: https://www.youtube.com/user/smiuq
If you would like to be included in our email invitation list:
Venue
Indooroopilly Mine Site
40 Isles Road
Indooroopilly, Qld