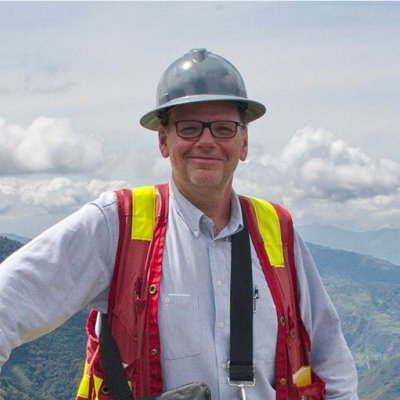 Professor Rick Valenta specialises in geology and geophysics applied to mineral exploration and mining.  Trained as a geologist, Rick worked for a short time in Petroleum exploration in Western Canada before coming to Australia to complete a PhD on the George Fisher Zn-Pb-Ag deposit in the Mount Isa region.  He then spent 5 years as a lecturer at Monash University in an industry-supported role aimed at developing the science and practice of structural interpretation of geophysical data.  During this period, he was involved in the development of very successful industry training programs and a significant number of publication and software outputs. Rick then spent 23 years in industry roles including Chief Geologist, Chief Operating Officer, and multiple CEO roles. Companies and exploration teams under his direction have been involved in a significant number of mineral discoveries of copper, uranium and gold, as well as several transformative company transactions.
Rick is a Fellow of the AusIMM, a practising member of the Association of Professional Geologists of Ontario (APGO), a member of the Geological Society of Australia, the Society of Economic Geologists, and the Australian Institute of Company Directors.  He is also the Chair of the Resarch Committee of the Queensland Exploration Council.
The Complex Orebodies Program is now into its third year of operation. This presentation will cover progress to date on the program, showcasing a range of the exciting projects, outputs, impacts and collaborations which have resulted so far.
About JKMRC Friday Seminars 2020
Welcome to the 2020 Series of the JKMRC Friday Seminars.  The list of presentations will aim to cover a range of topics related to the minerals sector from decision making in exploration, new mineral processing technologies, social licence to operate and mine closure.
Due to COVID-19 social distancing restrictions, all JKMRC Friday Seminars will be presented as webinars only.
If you wish to watch past webinars you can access the videos on the SMI website https://smi.uq.edu.au/webinars
Previous seminars have been uploaded to YouTube via the following link: https://www.youtube.com/user/smiuq