Applying hydrogeochemical tools for improved management of waste from mining
20 August 2021

9:00am

–

10:00am
Speaker: Dr Brent Usher, Manager Geosciences / Principal Hydrogeochemist, KCB Australia
Abstract:  Different assessment tools are needed for different problems (and often need several parallel approaches to tell the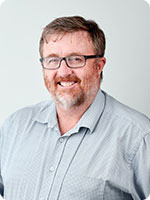 story); this webinar will focus on informing practical solutions to solving the problem.
Bio:   Dr Brent Usher has more than 25 years of experience in the field of mine waste geochemistry, aqueous geochemistry and hydrogeology. This includes aqueous geochemistry, hydrogeochemical modelling, contaminant hydrogeology, Acid Rock Drainage and Metal Leaching (ARD/ML) assessment and management.
Brent's experience spans Australian and international projects for over 150 project sites, with a focus is on geochemical characterisation, mine water balances, water quality and hydrogeochemical predictions for mine waste facilities. Brent has co-authored 17 peer-reviewed scientific papers, co-edited a book and produced more than 50 conference outputs. He has contributed to national "leading practice guidelines" and presented several short courses.
About JKMRC Friday Seminars 2021
Welcome to the 2021 Series of the JKMRC Friday Seminars.  The list of presentations will aim to cover a range of topics related to the minerals sector from decision making in exploration, new mineral processing technologies, social licence to operate and mine closure.
The JKMRC Friday Seminars will be presented both in person, at the Indooroopilly Mine Site Lecture Theatre, and also as webinar.  Registration for the webinar is required and can be made via the registration link in each seminar overview.
A large number of past webinars can be accessed on the SMI website: https://smi.uq.edu.au/webinars
Previous seminars have been uploaded to YouTube via the following link: https://www.youtube.com/user/smiuq
The final seminar in the 2021 series will be held on Friday 22 October.
If you would like to be included in our email invitation list: