Dr Walter Valery (JKMRC Alumni No. 130)
Global Director, Consulting and Technology, Hatch
"I am very proud and honoured to have studied at the JKMRC. Much more than an academic achievement, the PhD at the JK helped me to develop the professional and personal skills for a successful career in the Mining Industry.  This wouldn't be possible without the knowledge, experience, enthusiasm and never ending support from my supervisor and colleagues at the Centre.  It has also been a great pleasure to actively participate in the social life of the JK, where students and staff always provided a friendly and culturally rich environment to learn and work."
---
Dr Barun Gorain (JKMRC Alumni No. 126)
Senior M​anager, Mineral Processing, Strategic Technology Solutions Barrick Gold Corporation
"The JK Centre is truly a training ground for developing world-class mineral processing professionals rooted in fundamentals yet cognizant of the realities of how the industry works. The opportunities provided by the JK Centre have enriched my life with a fulfilling career and has allowed me to make key technical contributions and build wonderful friendships within the mining community worldwide."
---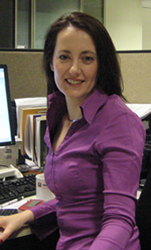 Dr Zeljka Pokrajcic (JKMRC Alumni No. 204)
Principal Process Engineer, Worley Parsons
"Being a student at the JK provided a supportive and stimulating environment for research towards a post graduate degree.  Knowledgeable supervisors with an industry focus together with supportive student culture provided a sound platform for an exciting and rewarding career in the mineral industry." 
---
Dr Iain Scott (JKMRC Alumni No. 48)
Chief Operating Officer, Altona Mining Limited
"I can't think of a better way to undertake relevant, applied research and gain valuable industrial experience at the same time. The JKMRC formula provided exactly that for me and stood me in good stead in a career that spanned both technical development and production management."   
---
Dr Dewetia Latti (JKMRC Alumni No. 185)
Manager – Technology & Innovation, Rio Tinto
"I did my PhD part-time whilst working in the industry and the support of supervisors and colleagues throughout my time at the JK was exceptional.  A PhD presents academic challenge, but the JK provides much more - a learning environment that includes fundamental and practical application and a wealth of opportunities to interact with experts in minerals processing.  It was a privilege to have studied at the JK."
---
Dr David Seaman (JKMRC Alumni No. 188)
Principal Metallurgist, Newcrest Mining Limited
"The research projects carried out by postgraduate students at the JK provide an excellent opportunity to create professional and social relationships with numerous industry leading professionals.  The multi-cultural diversity of the Centre ensures an exciting and fulfilling social experience as well as access to some of the leading researchers in the world.  I am truly proud to be a JK alumni and my experience gained at the Centre proved to be an excellent foundation for an exciting career in the minerals processing industry, where I often encounter fellow alumni within various organisations across the industry.
---
Dr Wally Xu (JKMRC Alumni No. 193)
President – Global Development, Joyque Group, Nanjing, P.R. China
"I had wonderful 8 years studying and working in JK, which is also the most important chapter of my life. Not only I finished my doctorate study which still looks quite incredible achievement even today, but I also gained invaluable working experience and attitude towards professionalism, as well as the great experience of social life and events participation. Even I'm one of very few graduates who are not working in mineral or related industry, my career foundation was solidly built in JK. I'm deeply proud of being a JK alumni.
View all Alumni
JK Alumni No.

Initial

Surname

Year

Degree

Thesis Title

1

A J

Lynch

1964

PhD

Matrix Models of Certain Mineral Treatment Processes

2

D E

Moore

1964

PhD

A Mathematical Analysis of Mineral Breakage

3

T C

Rao

1966

PhD

Characteristics of Hydrocyclones and Their Application as Control Units in Comminution Circuits

4

P D

Bush

1967

PhD

Breakage in Ball Mills

5

J R

Braes

1969

MSc

A Digital Computer Simulation of the Flotation Process and Investigation of Some Possible Control Variables

6

P T

Isles

1969

MEngSc

A Mathematical Study of Mixing in Ore Storage Bins

7

D J

McKee

1969

MEngSc

An Analogue Computer Simulation of Industrial Flotation

7

D J

McKee

1972

PhD

Control of Chalcopyrite Flotation

8

M J

Lees

1970

MSc

Comminution Simulation

8

M J

Lees

1973

PhD

Dynamic Behaviour of Industrial Grinding Circuit

9

E

Gallagher

1972

MSc

Particle Sizing in Mineral Processing

9

E

Gallagher

1976

PhD

Optoelectronic Coarse Particle Sizers

10

N W

Johnson

1972

PhD

Flotation Behaviour of Some Chalcopyrite Ores

11

G G

Stanley

1972

ME

Autogenous Milling Plant Design and a Mathematical Model of an Autogenous Mill

11

G G

Stanley

1974

PhD

An Autogenous Mill

12

W J

Whiten

1972

PhD

Simulation for Mineral Processing

13

P

Wickham

1972

MEngSc

Comminution of Pebbles and Fine Ore

14

R H

Cuttriss

1973

MEngSc

Flotation Kinetics

15

G A

Gault

1973

MSc

Dynamic Behaviour of a Small Scale Grinding Circuit

15

G A

Gault

1975

PhD

Modelling and Control of Autogenous Grinding Circuits

16

D R

Marlowe

1973

MSc

A Mathematical Analysis of Hydrocyclone Data

17

S K

Kawatra

1974

PhD

On-line Determination of Copper and Lead in Mineral Slurries

18

E V

Manlapig

1975

MEngSc

A Digital Computer Model of Flotation

18

E V

Manlapig

1977

PhD

The Automatic Control of Chalcopyrite Flotation

19

G C

Thorne

1975

PhD

The Flotation Behaviour of Pb-Zn Ores

20

R L

Wiegel

1976

PhD

The Development and Use of Mathematical Models in the Computer Simulation of the Magnetite Taconite Concentration Process

21

J S

Hall

1977

PhD

Composite Mineral Particles

22

R D

Morrison

1977

PhD

High Tension Roll Separation

23

G A

Duckworth

1978

MEngSc

Optimisation at a Copper Mine

23

G A

Duckworth

1981

PhD

Simulation of Autogenous Mills

24

K R

Leach

1978

MSc

A Steady State Model for Coal Flotation

25

K

Nageswararao

1978

PhD

Modelling and Scale-up of Industrial Hydrocyclones

26

J F

Thompson

1978

MSc

The Separation of the Petrographic Constituents of Coal

27

M E

White

1978

PhD

An Investigation of Crushing and Screening

28

R J

Doherty

1979

MEngSc

A Study of the Copper Flotation Section of a Concentrator Treating a Complex Sulphide Ore

29

N

Liyanaarachichi

1980

MSc

Techniques for Insitu Measurement of Coal Overburden to Improve Fragmentation

30

R W

Allan

1981

PhD

Composite Particles in Pb/Zn Flotation

31

T H

Kleine

1981

MSc

Flotation Circuit Analysis Using Mass Balance Concepts

31

T H

Kleine

1988

PhD

A Mathematical Model of Rock Breakage by Blasting

32

S A

Mays

1982

MSc

Cyclones Used in the Coal Industry

33

H

Askew

1983

PhD

Simulation and Control of Dense Medium Cyclone Circuits

34

S E A

Awachie

1983

PhD

Development of Crusher Models Using Laboratory Data

35

I D

Cauley

1983

MEngSc

An Investigation of Tin Loss in the Sulphide Flotation Section of a Lode Tin Concentrator

36

N P

Cleminson

1983

PhD

Composite Particles in Complex Sulphide Flotation

37

F W

Hess

1983

PhD

Modelling Screens and Related Units

38

A J

Thornton

1983

MSc

Cassiterite Losses Treating Sulphide Flotation in a Tin Concentrator

38

A J

Thornton

1986

PhD

Adaptive Control of Froth Flotation

39

M G

Casey

1984

MEngSc

Automatic Control of Circulating Load in a Flotation Circuit

40

G J

Lyman

1984

PhD

On-line Analysis for Ash in Coal and Coal Slurries

41

B A

O'Brien

1984

MSc

The Beneficiation of Stuart Oil Shales

42

C A

Smith

1984

PhD

Dynamic Simulation of Sulphide Flotation Circuits

43

J

Turner

1984

MSc

An Empirical Model to Describe the Mineral Flow in an Inclined Launder

44

D W

Lauder

1985

MSc

Circuit Limitations in a Nickel Concentrator

44

D W

Lauder

1989

PhD

Flotation Circuit Performance Theory

45

C K

McKenzie

1985

PhD

Seismic Rock Condition Evaluation

46

S S

Narayanan

1985

PhD

Ball Mill Modelling Using Laboratory Breakage Data

47

T A

Nicholson

1985

MSc

A Study of the Role of Turbulence in the Flotation Process

47

T A

Nicholson

1996

PhD

Mathematical Modelling of the Ilmenite Reduction Process in Rotary Kilns

48

I A

Scott

1985

MSc

Particle Size Effects in Ore Preconcentration Using Dense Medium Cyclones

48

I A

Scott

1990

PhD

A Dense Medium Cyclone Model Based on the Pivot Phenomenon

49

D M

Wiseman

1985

MSc

A Prototype Process Analyser and Simulator for the Mineral Processing Plant Metallurgist

50

R A

Alford

1987

MEngSc

Development of a Flotation Treatment Flowsheet for a Partially Exposed Lead/Zinc Ore

50

R A

Alford

1991

PhD

Modelling and Design of Flotation Column Circuits

51

J J

Dawes

1987

PhD

A Study of Blast Vibrations

52

W A

Hutton

1987

MEngSc

Mathematical Modelling of Drum Scrubbers

53

M E

Armstrong

1988

MEngSc

The Measurement of Gas Penetration from an Explosive Charge

54

J J

Davis

1988

PhD

A Study of Coal Washing Dense Medium Cyclones

55

J M

Graham

1988

MEngSc

Simulation and Control in Coal Preparation

56

D

Ilievski

1988

ME

Mathematical Modelling of Coal Washability Curves

57

B M

King

1988

MEngSc

Computer Aided Blast Design Evaluation

58

K

Leung

1988

PhD

An Energy Based, Ore Specific Model for Autogenous and Semi Autogenous Grinding Mills

59

J D

Lilly

1988

MSc

Evaluation of the Effects of Blasting on Slope Stability at the Mt Tom Price Open Pit Mine

60

P J

Baguley

1989

MEngSc

Modelling and Simulation of Dense Medium Drum Separators

61

B M

Bulow

1989

MEngSc

The Quantitative Assessment of Muckpile Shapes

62

J H

Heilig

1989

PhD

The Analysis and Implications of Pyrotechnic Delay - Variability on Rock Blasting

63

T

Kojovic

1989

PhD

The Development and Application of Model - an Automated Model Builder for Mineral Processing

64

J S

Anderson

1990

MEngSc

Development of a Cone Crusher Model

65

R D

Evans

1990

MEngSc

Fragmentation in Blasting

66

B

Lacouture

1990

MEngSc

Control of Variable Gap Crushers

67

B B

Lira

1990

PhD

The Development and Application of an Energy-Based Ball Mill Simulation and Design Technique

68

S

Morrell

1990

ME

Simulation of Bauxite Grinding in a Semi-Autogenous Mill and DSM Screen Circuit

68

S

Morrell

1993

PhD

The Prediction of Power Draw in Wet Tumbling Mills

69

N L

Paley

1990

MEngSc

Image Based Fragmentation Assessment

70

R X

Rong

1990

PhD

Fundamental Studies of the Stratification Mechanism of the Jig

71

R L

Yang

1990

PhD

Modelling of Burden Movement and Muckpile Shape in Blasting

72

S

Akutagawa

1991

PhD

A Back Analysis Program System for Geomechanics Applications

73

O M

Castro

1991

MEngSc

Improved Model for Hydrocyclones

74

G P

Chitombo

1991

PhD

Field Measurement of Seismic Pulse Attenuation with Some Mining Applications

75

C F

Corpuz

1991

ME

Simulation and Optimization of the Philex Concentrator

76

W M

Finch

1991

MSc

Investigation of a Flotation Performance Theory

77

A

Jonkers

1991

MEngSc

Computer Control of Jigs

78

C C

Russell

1991

MEngSc

Control of Mineral Processing Using Expert Systems

79

E

Villaescusa

1991

PhD

A 3-Dimensional Model of Rock Jointing

80

W

Yu

1991

MEngSc

Properties of the Kalman Filter and its Application to Flotation

81

W R

Adamson

1992

PhD

Application of the Cross Hole Seismic Technique to the Quantitative Assessment of Insitu Rock Structure

82

A D

Dance

1992

PhD

Modelling the Electrostatic Separation of Mineral Sands

83

D W

Ginsberg

1992

PhD

Cluster Analysis for Mineral Processing Applications

84

P H J

Grouhel

1992

MSc

An Explosive Selection Technique for Optimising Blasting at Open Cut Mining Operations

85

M C

Nott

1992

MEngSc

The Effects of Atomized Xanthate Conditioning on Sulphide Mineral Flotation

85

M C

Nott

1997

PhD

The Effects of Atomised Conditioning of Xanthate and Dixanthogen on Sulphide Mineral Flotation

86

R

Zhu

1992

MEngSc

A Study of Dust in Mineral Sands Dry Plants

86

R

Zhu

1997

PhD

Measuring the Structures of Fine Coal Filter Cakes Using Image Analysis

87

A W

Stradling

1992

PhD

Mathematical Models of Dry High-Density Magnetic Separators

88

R K

Tuteja

1992

MEngSc

Mathematical Modelling of Dense Medium Cyclones

89

C J

Wood

1992

PhD

A Performance Model for Coal-Washing Dense Medium Cyclones

90

Y

Zhang

1992

PhD

Simulation of Comminution and Classification in Cement Manufacture

91

A R

Cameron

1993

PhD

Development of Techniques for Evaluating the Performance of Bulk Commercial Explosives

92

W J

Dawson

1993

MEngSc

Flotation of Coarse Chalcopyrite

93

H R A

Exelby

1993

MSc

A Model of the High Gradient Magnetic Separator Used for Kaolin Beneficiation

93

H R A

Exelby

1997

PhD

Aspects of Gold and Mineral Liberation in Gold Processing

94

J H

Masinja

1993

PhD

Mathematical Models of Dense Medium Adhesion

95

A S

Siregar

1993

PhD

An Investigation of the Washing of Weipa Bauxites

96

P

Sunpetsiri

1993

MEngSc

Muckpile Condition: Assessment and Modelling

97

T

Li

1993

PhD

Modelling of Blast-Induced Rock Mass Damage

98

M W

Thomas

1993

MEngSc

Mine Airblast Measurement, Analysis and Control

99

P A

Walker

1993

PhD

An Approach to the Assessment and Modelling of Rock Mass Damage around Underground Excavations

100

R

Wedmaier

1993

PhD

An Investigation of Failure Criteria and a Blast Wave Propagation Model for a Description of a Rock Breakage Problem

101

D M

Weedon

1993

PhD

A Model of Mineral Liberation in Tumbling Mills

102

D J

Edward

1994

MEngSc

A Study of Electrostatic Separation Models and Their Application

103

J P C

Mutambo

1994

MEngSc

Further Development of an Autogenous and Semi-Autogenous Mill Model

104

K R P

Petersen

1994

MSc

Vortex Chamber Modelling for Hydrocyclone Simulation

105

K S

Sarma

1994

PhD

Models for Assessing the Blasting Performance of Explosives

106

J A

Willis

1994

PhD

Modelling and Simulation of the Carbon-in-Pulp Gold Recovery Process

107

Y

Cai

1995

MEngSc

The Application of a Numerical Back Analysis System "CADAX" to Mining Geomechanics

108

G

Chapa

1995

MEngSc

Evaluation of Devices for Ore Breakage Characterisation

109

N M

Djordjevic

1995

PhD

A Study of Blast Induced Vibrations

110

M S

Duffy

1995

MEngSc

Investigation into the Performance Characteristics of Tower Mills

111

D

Kowald

1995

MSc

Automation of Grain Counting in the Mineral Sands Industry

112

M

Li

1995

PhD

A Study of Coal Washing Spirals

113

R M

Selamat

1995

PhD

A Basic Analysis of Rock Slope Stability Incorporating Blast Vibrations

114

F

Shi

1995

PhD

Slurry Rheology and Its Effect on Grinding

115

G P T

Dzinomwa

1996

PhD

Dewatering of Fine Coal Using Superabsorbent Polymers

116

S L

Gay

1996

PhD

Liberation Mining Using Particle Sections

117

E A

Isokangas

1996

PhD

Aspects of Process Control in Mineral Sand Dry Plants

118

L

Kocis

1996

PhD

Evaluation of Accuracy in Simulation of Mineral Processing

119

L F

Tapia-Vergara

1996

MEngSc

The Use of Structured Light for Particle Discrimination in Size Distribution Assessment

120

M A

Vera

1996

MEngSc

The Determination of the Collection Zone Rate Constant and Froth Zone Recovery by Column Flotation

120

M A

Vera

2002

PhD

A Touch of Froth: How Bubble-Particle Aggregates Take the Strain

121

C A

Briggs

1997

PhD

A Fundamental Model of the Cone Crusher

122

G W

Elworthy

1997

ME

Aspects of Froth Flotation With Respect to Zinc Metallurgy

123

R R V

Rijapurapu

1997

MEngSc

Evaluation of Control Strategies for an Industrial Grinding Circuit

124

K J

Stewart

1997

PhD

An Investigation of Ferrosilicon Corrosion in Dense Medium Plants

125

I K

Asomah

1998

PhD

Improved Models of Hydrocyclones

126

B K

Gorain

1998

PhD

The Effect of Bubble Surface Area Flux on the Kinetics of Flotation and its Relevance to Scale-Up

127

K K

Nguyen

1998

PhD

Flotation Froth Characterisation by Using Vision Technology

128

C G

Scott

1998

MEngSc

The Effect of Blasting on the Stability of Underground Excavations in Bedded Strata

129

I S

Stephenson

1998

PhD

The Downstream Effects of High Pressure Grinding Rolls Processing

130

W

Valery

1998

PhD

A Model for Dynamic and Steady-State Simulation of Autogenous and Semi-Autogenous Mills

131

J

Xiao

1998

PhD

Extensions of Model Building Techniques and Their Applications in Mineral Processing

132

I D

Brunton

1999

MEngSc

The Effect of Blast Induced Transient Loads on Slope Displacements

133

H

Delboni

1999

PhD

A Load-Interactive Model of Autogenous and Semi-Autogenous Mills

134

M E

Dunglison

1999

PhD

A General Model of the Dense Medium Cyclone

135

K J

Golab

1999

PhD

Experimental Investigation of Fluid Flow on Spiral Separators for Ores and Coal

136

A

Jankovic

1999

PhD

Mathematical Modelling of Stirred Mills

137

R

Kelly

1999

PhD

Model and Industrial Investigation of the Sputnik Raw Coal Distributor

138

D

Peel

1999

PhD

Mixture Model Clustering and Related Topics

139

D C

Rahal

1999

MEngSc

The Effects of a Fluorosurfactant in Fine Grinding Using a Stirred Mill

140

J G

Rayner

1999

PhD

The Development of Process Models of the Wet Drum Magnetic Separator

141

O N

Savassi

1999

PhD

Direct Estimation of the Degree of Entrainment and the Froth Recovery of Attached Particles in Industrial Flotation Cells

142

L A

Tondo

1999

MEngSc

Phenomenological Modelling of Size Reduction Performed by a High Pressure Roll Mill

143

M

Wilmot

1999

MEngSc

Application of Automatic Control to High Tension Roll Separation

144

D D

Zhang

1999

PhD

Simulation Techniques for Discrete Element Models

145

J M

Keith

2000

PhD

A Stereological Correction for Multiphase Particles

146

Y

Kolatschek

2000

MEngSc

Modelling the Drop Shatter Process Using Lithotype Description and Single Particle Breakage Results

147

Y T

Man

2000

PhD

A Model-Based Scale-Up Procedure for Wet, Overflow Ball Mills

148

L S

Pangum

2000

PhD

Process Mineralogical Response of Fluorine Bearing Minerals in OK Tedi Ores

149

V H

Tran

2000

PhD

Improved Calibration Techniques for Nuclear Analyzers

150

J R

Warder

2000

MSc

The Characteristics of Nickel Flotation at WMC's Leinster Nickel Concentrator

151

P

Bojcic

2001

PhD

Development of a Model for Predicting Thickener Rake Torque

152

N J

Harries

2001

PhD

Rock Mass Characterisation for Cave Mine Engineering

153

S C

Lymbery

2001

PhD

Hydrodynamic Extension of Radial Fractures by Explosive Gas Loading

154

N

Zhang

2001

MEngSc

Determination of Mineral Composition from Elemental Assays

155

W S

Ashari

2002

MEngSc

The Form Generating Controller as an Alternative Control Technique

156

G A

Banini

2002

PhD

An Integrated Description of Rock Breakage in Comminution Machines

157

S R

Latchireddi

2002

PhD

Modelling of the Performance of Grates and Pulp Lifters in Autogenous and Semi-Autogenous Mills

158

C A

Mawdesley

2002

PhD

Predicting Rock Mass Cavability in Block Caving Mines

159

V S

Subramanian

2002

PhD

Measuring Medium Segregation in the Dense Medium Cyclone Using Gamma-Ray Tomography

160

M J

Daniel

2003

MEngSc

HPGR Model Verification and Scale-Up

160

M J

Daniel

2007

PhD

Energy Efficient Mineral Liberation Using HPGR Technology

161

B A

Eadie

2003

PhD

A Framework for Modelling Fragmentation in Block Caving

162

A K

Majumder

2003

PhD

Modelling of Flowing Film Concentrators

163

M M L

Ng

2003

PhD

Electrical Characterisation of Titanium Minerals

164

S

Tello

2003

MEngSc

Modelling the Effect of Mill Length on the Relationship between Slurry Hold-Up and Flowrate

165

R K

Wattimena

2003

PhD

Designing Undercut and Production Level Drifts of Block Caving Mines

166

M

Ziemski

2003

PhD

Modelling HTR Separation

167

G

Cavanough

2004

PhD

Measurement of Magnetic Susceptibility in Titanium Minerals Processing

168

M

Dou

2004

PhD

Automatic Mineral Identification Using BSE and EDS Signals from an SEM

169

S

Esen

2004

PhD

A Non-Ideal Detonation Model for Commercial Explosives

170

S F B S

Hashim

2004

PhD

Mathematical Modelling the Two-Compartment Mill and Classification

171

D P

Obeng

2004

PhD

The Three-Product Cyclone—Separation Performance, Potential Applications and Modelling

172

G R

Power

2004

PhD

Modelling Granular Flow in Caving Mines: Large Scale Physical Modelling and Full Scale Experiments

173

K

Rich

2004

MSc

Optimising Cone Crusher Performance

174

S M

Vianna

2004

PhD

The Effect of Particle Size, Collector Coverage and Liberation on the Floatability of Galena Particles in an Ore

175

M A

Callan

2005

PhD

Fitness for Purpose of Longwall Powered Supports

176

G E

Flores

2005

PhD

Rock Mass Response to the Transition from Open Pit to Underground Cave Mining

177

A R

Guest

2005

PhD

The Dynamic Breakage of Kimberlite in the Near Field

178

P D

Hapugoda

2005

MPhil

Rapid Measurement of Heavy Mineral Content in Wet-Plant Streams

179

Z

Krco

2005

MPhil

Interaction between Mine and Plant in Coal Processing

180

I A

Onderra

2005

PhD

A Fragmentation Model for Underground Production Blasting

181

P C

Stewart

2005

PhD

Minimising Dilution in Narrow-Vein Mines

182

R G

Coleman

2006

PhD

Using the Floatability Characterisation Test Rig for Industrial Flotation Plant Design

183

A E

Halim

2006

PhD

Study of the Influence of Interactive Draw upon Drawpoint Spacing in Block and Sublevel Caving Mines

184

J

Hall

2006

MPhil

Evaluation of Blast Fragmentation Models for Mine to Mill Applications

185

A D

Latti

2006

PhD

The Textural Effects of Multiphase Mineral Systems in Liberation Measurement

186

S P

Michaux

2006

PhD

Analysis of Fines Generation in Blasting

187

E

Sanwani

2006

PhD

Measurement and Modelling of Gas Dispersion Characteristics in a Mechanical Flotation Cell

188

D R

Seaman

2006

PhD

Selective Transport of Attached Particles across the Froth Phase

189

D J

Alexander

2007

PhD

Froth Recovery Measurements in Large Industrial Flotation Cells

190

R L

Castro

2007

PhD

Study of the Mechanisms of Gravity Flow for Block Caving

191

R A

Hawkins

2007

MPhil

A Piston & Die Test to Predict Laboratory-Scale HPGR Performance

192

M H

Hilden

2007

PhD

A Dimensional Analysis Approach to the Scale-Up and Modelling of Industrial Screens

193

H W

Xu

2007

PhD

A Methodology for Developing an Extensible Mineral Information Model

194

W M

Jansen

2008

PhD

A Strategic Approach to Mine-Mill Reconciliation

195

A J

Power

2008

MEngSc

Investigation of K-SB Flotation Model in Fine Coal Flotation

196

M

Cakici

2009

MPhil

Characterisation of Samples of Ore Particles Using X-Ray Micro-Tomography

197

G J

Leigh

2009

PhD

Multi-Scale Image Analysis for Process Mineralogy

198

J L

Reyes-Bahena

2009

PhD

The Effect of Regrinding on Flotation Performance

199

K C

Runge

2009

PhD

Modelling of ore Floatability in Industrial Flotation Circuits

200

X

Zheng

2009

PhD

Modelling of Froth Transportation in Industrial Flotation Cells

201

S

Larbi-Bram

2010

PhD

Ore Breakage Characterisation for AG/SAG Mill Modelling

202

S D D

Welsby

2010

PhD

On the Interpretation of Floatability Using the Bubble Load

203

N

Mangadoddy

2010

PhD

Improved Computational and Empirical Models of Hydrocyclones

204

Z

Pokrajcic

2010

PhD

A Methodology for the Design of Energy Efficient Comminution Circuits

205

R L

Pascual

2010

PhD

Determination of Flotation Model Parameters

206

L M

Keeney

2010

PhD

The Development of a Novel Method for Integrating Geometallurgical Mapping & Orebody Modelling

207

T G

Vizcarra

2011

PhD

The Effect of Comminution Mechanism on Particle Properties: Consequences for Downstream Flotation Performance

208

M A

Min

2011

PhD

Measuring the Floatability of Sulphide Minerals & Ores: The Captive Bubble Attachment Times of Galena, Sphalerite & Cannington Lead-Zinc Ore Particles Floating at Different Rates

209

C L

Evans

2011

PhD

Development of a Methodology to Estimate Flotation Separability from Ore Microtexture

210

F

Musa

2011

PhD

Development of Methods to Assess the Efficiency of Comminution Devices and Operations

211

C J

Vanegas

2011

PhD

Development of a Novel Froth Acoustic Emissions Sensor

212

R J

Hocking

2011

PhD

An Examination of Single Particle Rock Breakage Using an Instrumented Load Cell, Acoustic Measurement and X-Ray Tomography

213

P

Botman

2011

MPhil

Evaluation of Foliar Eucalyptus Oils as Coal Flotation Reagents

214

C

Ozer

2011

PhD

A New Multi-Component Model for the Vertical Spindle Mill

215

G

Sheridan

2011

MPhil

Magnetic Field Based Non-Contact Measurement of the Concentration of Magnetite in Slurry

216

R

Varadi

2011

PhD

Laboratory Methods for Characterising the Floatability of Ore

217

R

Tabatabaei

2012

PhD

The Causes for the Poor Flotation Performance of a Double-Refractory Gold Ore

218

R

Hartner

2012

PhD

Integration and Analysis of Optical and MLA-Based Microscopy for Optimisation of Geometallurgical Modelling and Ore Deposit Characterisation

219

N

Danoucaras

2012

PhD

Property-Based Modelling at Fixed Chemistry: The Use of a Back-Calculated Induction Time for Predicting Recoveries in Flotation

220

T

Pham

2012

PhD

Modelling of Breakage Phenomena in Rocks

221

V

Rizmanoski

2012

PhD

The Effect of Microwave Heating on Ore Sorting

222

V

Jokovic

2012

PhD

Microwave Processing of Minerals

223

G

Ballantyne

2012

PhD

Application of Dielectrophoresis to Mineral Processing

224

E

Wang

2012

PhD

Use of High Voltage Pulse Technology to Investigate the Mechanism of Mineral Breakage and Selective Liberation

225

E

Tabosa

2012

PhD

The Effect of Cell Hydrodynamics on Flotation Kinetics

226

B

Comley

2013

PhD

The Trials of Frother Evaluation for Industrial Scale Use

227

M

Larson

2013

MPhil

Experimental Study of IsaMill Performance Leading to a Preliminary Model

228

E

Amini

2013

PhD

Influence of Flotation Cell Hydrodynamics on the Flotation Kinetics and Scale up of Flotation Recovery

229

A M

Rojo

2013

MPhil

Effect of Ore Blends on Flotation of Copper and Molybdenum in Porphyry Ores

230

G

Sandoval

2013

PhD

Development of a Novel Strategy to Estimate Flotation Recovery as a Function of Particle Size and Mineral Liberation

231

M

Bueno

2013

PhD

Development of a Multi-Component Model Structure for Autogenous and Semi-Autogenous Mills

232

R

Chandramohan

2013

PhD

Effect of Rock Shapes in Comminution

233

G L

Genn

2013

PhD

Novel Techniques in Ore Characterisation and Sorting

234

C E

Carrasco

2013

MPhil

Development of geometallurgical tests to identify, rank and predict preferential coarse size by size Au deportment to support feed preconcentration at Telfer Au-Cu mine, Newcrest Western Australia

234

C

Carrasco

2017

PhD

Integrated assessment to quantify size based grade engineering operating strategies and economc impacts

235

B

Toor

2014

MPhil

Quantifying the influence of liner wear on SAG mill performance

236

G

Long

2014

MPhil

Production of low arsenic copper concentrate from a VMS ore

237

A

Rodrigues

2014

MPhil

Grinding of itabirite iron ore in auogenous and semi-autogenous mills

238

B

Newcombe

2014

PhD

Characterising and predicting the performance of an industrial flash flotation cell

239

F

Burns

2014

MPhil

Development of a regrind-flotation pre-treatment methodology for the carbon-in-leach circuit of a copper-gold processing plant

240

C

Akop

2014

MPhil

Developing a bulk circuit suitable for chacopyrite-pyrite ores with elevated pyrite content in copper-gold ore treatment

241

M

Chauhan

2014

PhD

Investigation of a mineral flotation separability test for ore characterisation in geometallurgy

242

S

Bajic

2015

PhD

Characterisation of the liberation kernel

243

X

Chen

2015

PhD

The effect of regrinding chemistry and particle breakage mechanisms on subsequent cleaner flotation

244

C

Masuret

2015

MPhil

Developing an abrasion characterisation test for measuring superficial breakage in comminution

245

D

Mitchell

2015

MPhil

Improved relationships for discharge in SAG/AG mills

246

W

Zuo

2015

PhD

A study of the application and modelling of high voltage pulse comminution for mineral ores

247

N

Cruz

2016

PhD

Interactions of clay minerals and their effects on copper-gold flotation

248

N

Vijayakumar

2016

MPhil

Development of an AG/SAG mill batch test methodology

249

E

Louwrens

2016

PhD

A Novel geometallurgical approach to tailings storage facility characterisation and evaluation

250

J

Quinteros Riquelme

2016

PhD

Improved process development for complex silver ores through systematic advanced mineral characterisation

251

T

Parker

2016

MPhil

The effects of high voltage pulse treatment on ore characteristics and separation performance of a porphyry copper ore

252

A

Collins

2016

PhD

Classification of multi-component feeds in a hydrocyclone

253

Md M

Hasan

2016

PhD

Process modelling of gravity induced stirred mills

254

D

Tungpalan

2016

PhD

Investigating textural drivers for separation performance in a variable and complex ore body

255

J

Meng

2016

PhD

Measurement and prediction of turbulence in flotation cells

256

R

Mariano

2016

PhD

Measurement and modelling of the liberation and distribution of minerals in a comminuted ore

257

C

Li

2016

PhD

An investigation of flotation froth rheology

258

B

Yildirim

2016

PhD

Development of a correlation between mineralogy, rock strength measures and breakage of copper porphyries

259

F

Vos

2016

PhD

The effects of mineral grain textures at particle surfaces on flotation response

260

G

Wilkie

2016

PhD

Rapid assessment of the sorting potential of copper porphyry ores through modelling of textures and grade distributions

261

L

Wang

2016

PhD

Entrainment of fine particles in froth flotation

262

F

Saeidi

2016

PhD

New approach to characterising a breakage event as a multi-stage process

263

V

Resabal

2016

PhD

Investigation of the breakage mechanism in high speed disk-type impeller stirred mill and its influence on the mineral liberation

264

J

John

2017

PhD

Differential oxidation of iron sulphides to modify the Au:S ratio in the flotation concentrate product at Lihir

265

R

Muhammad Abdur

2017

Mphil

Investigation of semi inverted hydrocyclone model with novel design

266

Y

Reja

2017

Mphil

Development of a standard methodology for energy efficiency measurement in comminution processes

267

P

Yu

2017

PhD

A generic dynamic model structure for tumbling mills

268

M

Tayebi-Khorami

2017

PhD

Selective flotation of enargite from copper sulphides in complex ore systems

269

N

Scott

2017

PhD

Dynamic analysis of dense medium circuits

270
B
Foggiatto
2017 
PhD
Modelling and simulation approaches for exploiting multi component characteristics of ores in mineral processing circuits
271
B S
Katagiri - Buentello
2017
MPhil
The application of a three-dimensional mechanistic model in understanding blast movement in open cut mines
272
J S
Thella
2018
PhD
The influence of mineralogy and surface chemistry on flotation of Cortez complex carbonaceous double refractory gold ore
273
W
Huang
2019
PhD
Selective breakage of mineralised particles by high voltage pulses.
274
E
Avelar
2020
PhD
Influence of Muscovite Content on the Flotation of Pyrite and Arsenopyrite.
275
J
Frausto Gonzalez
2020
PhD
The impact of classification efficiency on comminution performance and flotation
recovery.
276
F
Faramarzi
2020
PhD
The Measurement of Variability in Ore Competence and its Impact on Process Performance.
277
P
Legge
2020
MPhil
Rheological properties of Lihir ore
278
P
Lois Morales
2020
PhD
Development of a geometallurgical approach for comminution using primary breakage properties of ores
279
R
Antunes Ferreira Lage
2020
MPhil
Enhancing Grade Engineering through multiple and high-speed collisions
280
B
Agbenuvor
2020
MPhil
Investigation into Multi-Stage Impact Breakage
281
G
Figueroa
2020
PhD
Investigation of the effects of turbulence in flotation
282
C
Paredes Bujes
2020
PhD
Measure-While-Drilling for Ore Characterisation: Links between drilling and comminution properties of rocks
283
A
Septian
2021
MPhil

Promoting Selective Breakage Using Various Forms of Abrasion Techniques

284
D
Tesh
2021
MPhil

Liberation of different pyrite types in refractory gold ores

285
R
Costa Picorelli
2021
MPhil

A study of calibration and validation of the SMI blasting model

286
D
Lay
2021
PhD

Factors Affecting High Voltage Pulse Breakage and Ore Pre-Concentration