Awards
Dee Bradshaw Travel Scholarship
Information and entry details for Dee Bradshaw Travel Scholarship
Ian Morley Prize
Information and entry details for Ian Morley Prize
Bill Whiten Memorial Prize
Information and entry details for Bill Whiten Memorial Prize
PhD Scholarship Opportunities
Current:
| | | | |
| --- | --- | --- | --- |
| Project | Supervisor | Description | Contact details |
| Sustainable Minerals Institute Bursary Scheme for Aboriginal and Torres Strait Islander Students | various | The aim of the bursary scheme is to support Aboriginal and Torres Strait Islander UQ HDR scholars to engage with global issues of responsible and sustainable minerals development, such as the imperatives of sustainable development, cultural heritage protection and environmental stewardship. The Sustainable Minerals Futures HDR Scholars will be supported and encouraged to network, engage and develop critical, innovative thinking about the environmental, social and governance challenges facing the resources industry in Australia and the world today. | |
Centre for Social Responsibility in Mining
Project
Supervisor
Description
Contact details

Dr Eleonore Lebre

Low-carbon energy technologies are widely promoted as the solution to the climate crisis. These technologies and their associated generation, storage and transport infrastructure require an enormous quantity and diversity of metals.

This project will analyse local risk dynamics in extractive locations around the world. The aim is to identify pathways for building government and industry capacity in order to achieve a 'just' energy transition. The project will connect local and global scales and generate evidence-based knowledge to ensure that the energy solutions we seek are just and can be managed responsibly.

For further information, please contact:

Dr Eleonore Lebre

at e.lebre@uq.edu.au

PhD Top-up scholarship: Consultation and consent for community energy development: enablers, barriers, and opportunities in Australia

The overarching aim of the project is to examine Australia's community energy landscape by focusing on energy-specific consultation and consent experiences. Specifically, the project will draw on lessons, mistakes, and experiences of other world regions to develop a robust knowledge base for Australia's community energy development.
Centre for Water in the Minerals Industry
QUEX PhD Scholarships
The University of Queensland and the University of Exeter are seeking exceptional students to join a world-leading, cross-continental research team tackling major challenges facing the world's population in global sustainability and wellbeing as part of the QUEX Institute. The joint PhD scholarship program provides a fantastic opportunity for the most talented doctoral students to work closely with world class research groups and benefit from the combined expertise and facilities offered at the two institutions. Expressions of interest for 2021 will open soon - read more
UQ Scholarships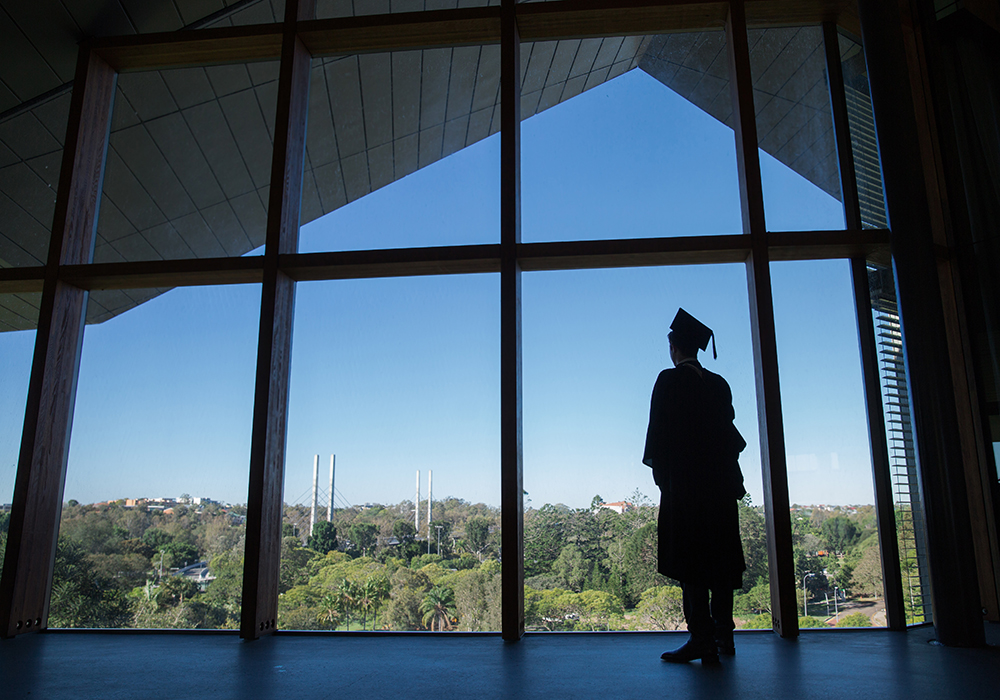 The UQ Graduate School manages a limited number of merit-based scholarships for commencing or currently enrolled UQ students on a competitive basis. These scholarships provide financial support for living allowances, tuition fees and overseas health cover (OSHC) (international students only), and international travel awards. To find out more about UQ's scholarships and deadlines for upcoming rounds, please visit the UQ Graduate School Scholarships and Fees website.
Other Scholarships
Please visit the website of the UQ Scholarships Office to review other opportunities for which you may be eligible. If you are applying for an external scholarship which requires you to give evidence of your admission to a Master of Philosophy or Doctor of Philosophy, you must submit your application for admission to UQ six weeks before your scholarship application deadline. This will allow UQ and SMI the time required to process your application and issue you with a provisional offer of admission.