Jump to scholarships or awards
Project –  Sustainable Minerals Institute Bursary Scheme for Aboriginal and Torres Strait Islander Students
Supervisor: Various
The aim of the bursary scheme is to support Aboriginal and Torres Strait Islander UQ HDR scholars to engage with global issues of responsible and sustainable minerals development, such as the imperatives of sustainable development, cultural heritage protection and environmental stewardship. The Sustainable Minerals Futures HDR Scholars will be supported and encouraged to network, engage and develop critical, innovative thinking about the environmental, social and governance challenges facing the resources industry in Australia and the world today.
For further information, contact Dr Sarah Holcombe at s.holcombe@uq.edu.au
Project – EU Horizon Europe-funded m4mining project
Supervisor: Various
As part of the m4mining international consortium, SMI has multiple PhD opportunities in the fields of geological sciences, mineral resources, environmental monitoring, drones, and application of AI and ML to hyperspectral sensing. Europe's key funding programme for research and innovation (Horizon Europe) will support research costs, field work around Australia and opportunities to travel to Europe.
For further information, contact Katerina Savinova (k.savinova@uq.edu.au) and Associate Professor Steven Micklethwaite (s.micklethwaite@uq.edu.au).
The University of Queensland and the University of Exeter are seeking exceptional students to join a world-leading, cross-continental research team tackling major challenges facing the world's population in global sustainability and wellbeing as part of the QUEX Institute. The joint PhD scholarship program provides a fantastic opportunity for the most talented doctoral students to work closely with world class research groups and benefit from the combined expertise and facilities offered at the two institutions. For more information, visit the Graduate School website.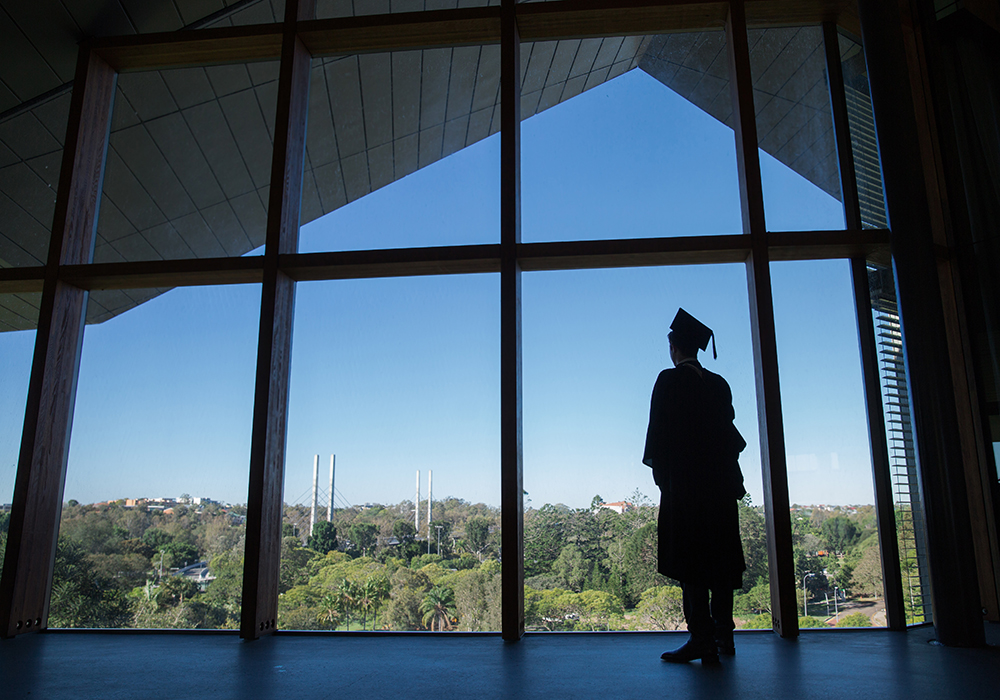 The UQ Graduate School manages a limited number of merit-based scholarships for commencing or currently enrolled UQ students on a competitive basis. These scholarships provide financial support for living allowances, tuition fees and overseas health cover (OSHC) (international students only), and international travel awards. To find out more about UQ's scholarships and deadlines for upcoming rounds, please visit the UQ Graduate School Scholarships and Fees website.
Please visit the website of the UQ Scholarships Office to review other opportunities for which you may be eligible. If you are applying for an external scholarship which requires you to give evidence of your admission to a Master of Philosophy or Doctor of Philosophy, you must submit your application for admission to UQ 6 weeks before your scholarship application deadline. This will allow UQ and SMI the time required to process your application and issue you with a provisional offer of admission. 
Dee Bradshaw Travel Scholarship
Established in 2018 in memory of Professor Dee Bradshaw and maintained by donations from her friends and work colleagues from The University of Queensland. The purpose of the scholarship is to enable meritorious postgraduate students to travel to an approved international institution to develop their research capabilities and experience within the minerals sector.  
Information and entry details for Dee Bradshaw Travel Scholarship
Established in 1990, the Ian Morley Prize is awarded annually to a Sustainable Minerals Institute Production Centres (JKMRC/BRC) research student on the basis of academic achievement, reports of work experience, leadership and personality.
Information and entry details for Ian Morley Prize
Established in 2021 in memory of Professor Bill Whiten and maintained by the income of a perpetual endowment fund supported by Mrs Agnes Whiten AM. The purpose of the prize is to encourage meritorious PhD students engaging in process control and model development at The University of Queensland to complete their thesis or participate in a local or international conference. 
Information and entry details for Bill Whiten Memorial Prize
The Dan Alexander Memorial Prize has been established to support the next generation of visionaries and up and coming leaders and to support Higher Degree by Research students at The University of Queensland to seed fund the commercialisation of their research.
Information and entry details for Dan Alexander Memorial Prize