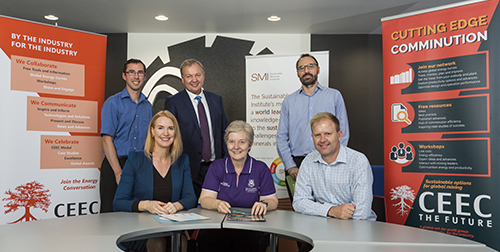 The Coalition for Energy Efficient Comminution (CEEC) is pleased to announce that a diverse and experienced new team will steer the comminution energy curves into the next phase of development, following the move by project lead Dr Grant Ballantyne from research to industry.
Developed by Dr Ballantyne and Professor Malcolm Powell at The University of Queensland's Queensland's Julius Kruttschnitt Mineral Research Centre (JKMRC), in collaboration with industry, the energy curves enable mines to benchmark the energy efficiency of their comminution circuits. This helps communicate the significant value that can be harnessed by improvements in comminution efficiency across mine sites.
The new team, led by JKMRC Senior Research Fellow Dr Cathy Evans, has expertise across the mining value chain, with particular strengths in comminution and mineral processing. Dr Evans' specialty is in understanding how ores respond in mineral processing circuits based on the behaviour of minerals in breakage, liberation and separation processes. In her current research, she is focusing on applying her expertise in geometallurgical modelling. Having trained in the UK and worked as a metallurgist for more than 30 years, including at mines in South America and Australia, Dr Evans brings a global and practical industry perspective to her research and teaching.
CEEC CEO Alison Keogh said development of the energy curves was now entering an exciting, new phase.
"The new team brings a wealth of experience and diverse skills and perspectives to enable further development of the energy curves in response to the needs of the mining industry," she said.
"Dr Evans is well versed in the dynamics of the energy curves, and is leading the liberation and recovery enhancement as part of the $469,000 CEEC Advanced Energy Curves Project, a two-year partnership between the Queensland Government; METS Ignited, an Australian Government Industry Growth Centre; and CEEC International.
"This project is enabling CEEC to deliver 10 practical enhancements to its suite of free energy curve tools and extend these enhancements into mining equipment, technology and services (METS) companies. CEEC has already delivered enhancements around energy cost, ancillary equipment, different commodities, embodied energy, comminution circuit type and grinding size. Work is continuing on equipment variability, blasting impact, liberation and recovery, and global hardness approach."
Ms Keogh said from a practical perspective, it was business as usual for the energy curves/industry interface.
"All data remains with the energy curves team on a secure platform at JKMRC. To make the transition as seamless as possible, we have established a new confidential email address – energy.curves@uq.edu.au – for research and mining professionals to contact Dr Evans and the energy curves team," she said.
Ms Keogh said the aim of the energy curves was to help the mining industry improve the energy efficiency of its comminution circuits. She said that CEEC had an extensive online library of case studies that demonstrated these improvements.
"The energy curves also enable industry leaders to canvas the best improvement options for their particular operating environment and to compare alternatives," she said.
"We encourage miners, METS companies and researchers to use these free tools and to share their success stories with us. This knowledge can help inform and drive more sustainable mining and processing practices across our industry."
JKMRC is part of UQ's Sustainable Mineral Institute (SMI) and it employs some of the world's leading comminution experts. SMI Director Professor Neville Plint endorsed the new energy curves team.
"Energy efficiency is one of the biggest issues facing the mining industry and we are delighted that this collaboration with industry will continue to develop under Dr Evans' leadership," he said.
"We invite industry to confidentially contribute mine operational data to the energy curves database and we welcome ideas and research collaborations for future enhancements to the existing suite of energy curves."
Ms Keogh thanked Dr Ballantyne for his outstanding work in developing the foundation energy curves and leading the recent enhancements.
"Dr Ballantyne was instrumental in the development of the foundation energy curves, managing and building the associated database, and leading interactive workshop sessions on the application of the curves. He also harnessed significant industry input and led six new enhancements, developing the energy curves to become a trusted, global benchmarking and improvement tool," she said.
More information on the energy curves here.
Contact Dr Evans and the energy curves team here.
Contribute mine operational data to the energy curves database here.
Contact CEEC
Ms Alison Keogh

www.ceecthefuture.org

LinkedIn:          CEECthefuture.org

Twitter:           @ceecthefuture