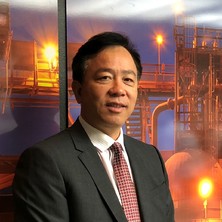 University of Queensland research into the eco-engineering of mine waste to a useful soil has received over $1.2 million in government and industry funding.
The project Breaking critical barriers in soil formation of bauxite residues, has received $777,000 from the Australian Research Council's Linkage Program, and industry partners Rio Tinto Aluminium's Yarwun Refinery and Queensland Alumina Limited (QAL) have contributed an additional $520,000.
Researchers from UQ's Sustainable Minerals Institute have been working with Yarwun and QAL since 2018 on developing the technology for rehabilitating the waste also known as red mud.
Team lead Professor Longbin Huang who is based in SMI's Centre for Mined Land Rehabilitation said the new project will build on their recent breakthroughs.
"While we have made substantial progress in developing field processes to engineer red mud into useful soil at Gove and QAL-red mud dams, this new funding allows us to understand the underpinning science for improving the technology's scalability and operability under different field conditions at other refineries across Australia," Professor Huang said.
"Alumina refineries in Australia and overseas are facing enormous environmental and economic challenges in rehabilitating red mud as conventional methods to develop sustainable ecosystems are very expensive.
"Currently, billions of tonnes of bauxite residues or 'red mud' are being stored in dams at alumina refineries worldwide.
"Large amounts of caustic soda and alkaline minerals remain in the red mud, making it difficult to overcome the extremely alkaline and salty conditions in the short-term.
"This new research aims to understand the fundamental processes to break barriers of persistent and reversible alkalinity and salinity in red mud within a short time frame, and improve the reliability and operability of the new technology - which has been the biggest obstacle to many decades of efforts to rehabilitate the vast areas of red mud landscapes worldwide".
"If successful this research would significantly impact the economic and ecological sustainability of the alumina industry in Australia."
Australia is the world's second largest alumina producer accounting for around 20% of global productions. Queensland alumina refineries generate an annual revenue in excess of $6 billion.
The ARC Linkage research team brings together expertise from across UQ including Professor Phil Hugenholz from the School of Chemistry and Molecular Biosciences and Professor Ram Dalal from the School of Agriculture and Food Science.
Contact: Gillian Ievers g.ievers@uq.edu.au 0438 121757