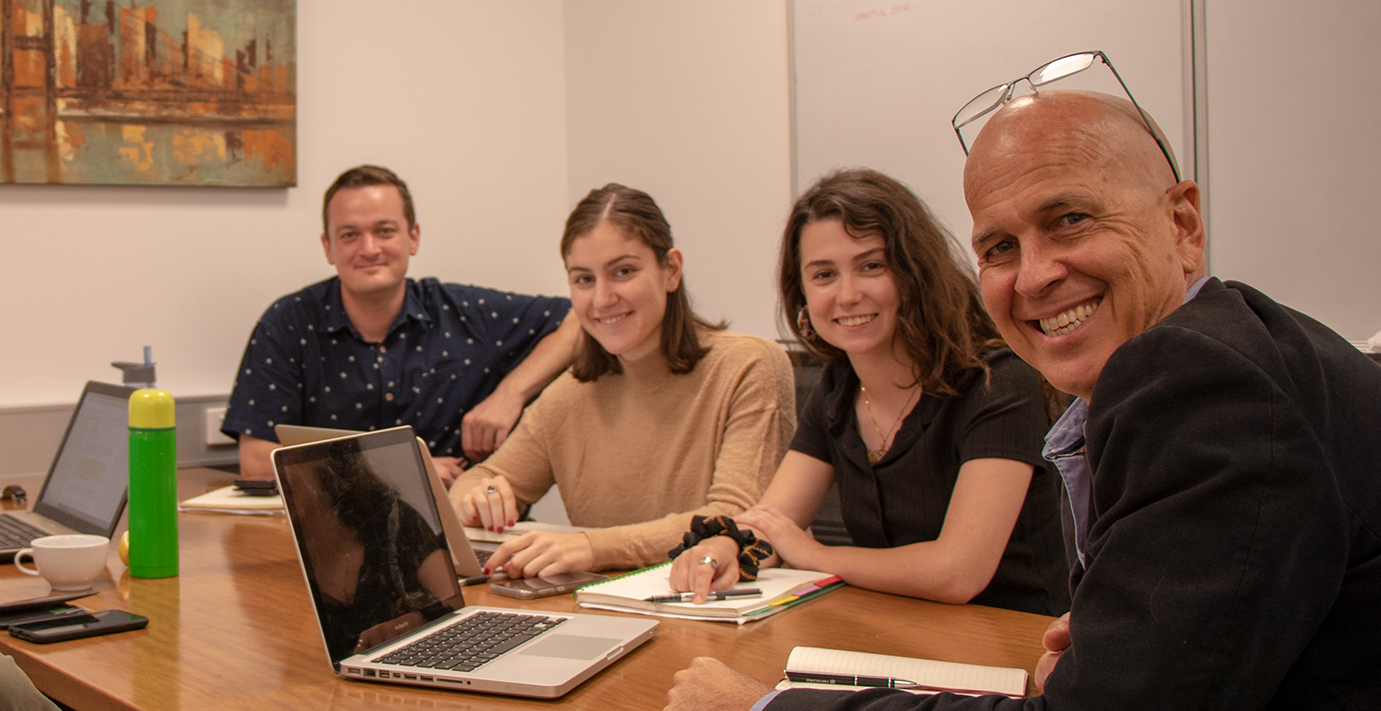 Posted by Anthea Belessis and Daisy Siddall
As part of UQ's Global Leadership Series, the Sustainable Minerals Institute (SMI) have partnered with the ABC to create and broadcast a panel discussion which interrogates the role of minerals in a sustainable future.
In recent years, equitable and sustainable development has become an increasing concern in the global arena. Strategies which reach towards the UN Sustainable Development Goals must address concerns of climate and renewable energy transitions. We now need to ask how minerals will contribute to achieving these goals.
For the previous month, the production team has been working with SMI and Professor Peter Greste to help unpack the complex interaction of sustainability and mineral extraction. We have been securing and interviewing panellists, establishing expert audience members, and making full use of researchers and academics to gain a greater understanding of the realities of the role of minerals in creating a sustainable future.
We began with one central question which informed the trajectory of the program:
"What does sustainability look like in a world built on minerals?".
Throughout the research and production process, we have worked with expert academics and industry leaders within the Sustainable Minerals Institute. They have assisted us in creating and refining a narrative arc which explores the contentious elements of mining, those which diminish the potential of a sustainable future. We interrogated the realities of a transition away from thermal coal and towards a society which utilises renewable technology. We then delved into the intricacies of recycling and rehabilitation, focusing on existing issues of sustainability in the resources sector and how they will coexist with future aspirations.
Once a robust narrative arc had been established, we spent weeks interviewing industry experts, from SMI researchers with expertise and experience in corporate and operational roles to dynamic thought leaders positioned to make vast changes to the industry. We were offered unparalleled insight into cutting edge research, focusing on strategies to mitigate the impacts absorbed by people, environment, and production in the extractive resources sector.
One of the key moments throughout the research process has been our discussions with Professor Rick Valenta on the technical and nontechnical realities of accessing complex orebodies to pursue the development of renewable technologies, especially in the Australian context. Copper is an irreplaceable mineral necessary for decarbonisation and the transition to an equitable and sustainable world. However, as demand to explore Australia's copper reserves grows, so too grows the environmental, social and production pressures of delivering increased quantities. With increased production, it is essential that we find ways to alleviate stress that will be put on the people and areas that are most vulnerable. Rick has been an invaluable resource in exploring these concepts throughout the research and production stages and will be present in the programs' audience to help unpack these issues further.
Following the development of our narrative arc, informed by interviews with experts and industry leaders, we began to realise the program more fully. This involved rigorous and repeated decisions of what information to privilege, what information to discard, and identifying the most pertinent debates surrounding sustainability. 
The show will include four panellists, representing the primary voices which comprise the industry and impacted communities. Each panellist will speak to issues surrounding the transition away from thermal coal; renewable energy; native title and mining lease agreements; the increasing focus on environmental and social impact; and future prospects for the mining industry's viability. Given the complexities of the program's themes, we have tasked a handful of academics and researchers with providing further analysis on some of these issues. Speaking from the audience, the experts will unpack questions on tailings, complex orebodies required for renewable technologies, the shift to renewables, climate activism, and what all this means for the mining industry moving forward.
As production day approaches and our understanding of the program's content becomes clearer, we are now able to focus on vital production elements: scripting, filming packages, and creating graphics. This experience has been a steep learning curve owing to the vast and complex impact the mining industry has on the individual, on communities, and on the world. Getting to grips with these concepts to facilitate a necessary debate has been challenging and rewarding in equal measure.
As we work to finalise the logistics of the program, we are growing excited to witness our research come to life as our panellists and experts attempt to unpack our central question and discuss what really are the realities and challenges of an increasing dependence on minerals to create a sustainable future.
Anthea recently completed a Bachelor of Journalism/Arts, majoring in Linguistics and Peace and Conflict Studies. 
Daisy is a fourth-year Journalism/Arts student majoring in International Relations and English Literature.