Mineral Processing undergraduate education – the role of SMI
Since UQ's pause in teaching in mid-March, a team of committed researchers and professional staff at SMI's Production Centres have been quietly, if a little frantically, working to deliver their Process Mineralogy and Comminution course (MINE3219) to 3rd year Chemical and Metallurgical Engineers.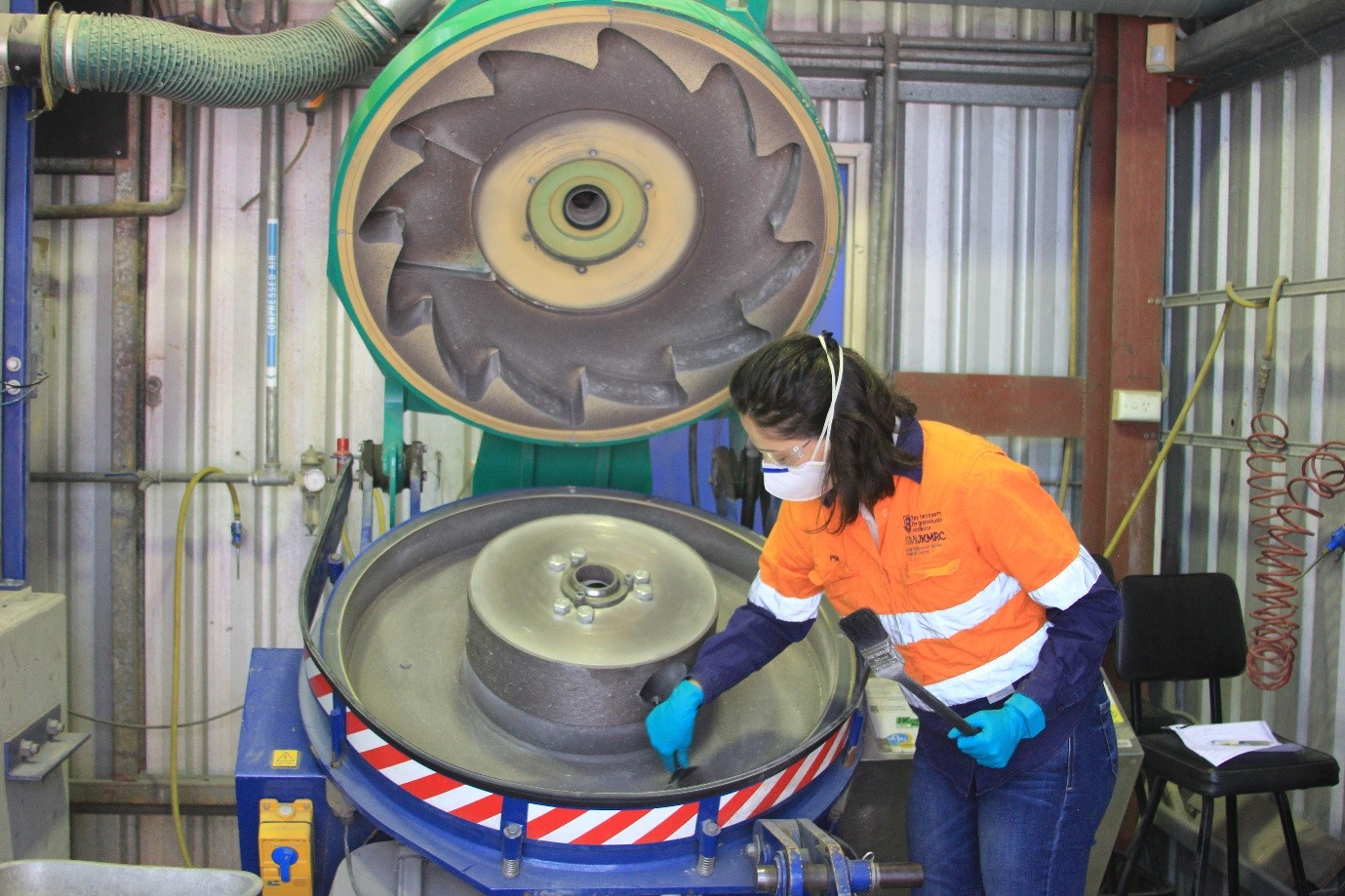 The early months of 2020 have offered some unique challenges and redefined the meaning of agile and flexible teaching in a landscape with an unprecedented pace of change.  The challenges set included:
"Switch to fully online delivery" - OK no problem;
"Rethink exams and assessment to be completely online", uh sure…;
"Maintain high quality learning outcomes without students physically participating in laboratory practicals" - um… I have an idea. 
Within days of the announcement of no on-campus teaching and with increasing restrictions on work practices the teaching team had mobilised to assemble a range of resources to support the shift to fully online.  This included filming demonstrations of all laboratory practicals, following physical distancing and hygiene guidelines.  The practicals form an important part of the teaching philosophy of the team who believe that their role is to provide the students with authentic learning experiences and access to cutting-edge knowledge that will provide them with a highly valued skill set in their future careers.
There are several, now industry standard, laboratory comminution tests that were developed at the JKMRC (including the JKRBT, pictured), and computer modelling and simulation packages (JKSimMet) routinely used in comminution circuit design, that UQ's undergraduates can engage with through the course.  Access to mineralogical characterisation tools, such as the Mineral Liberation Analyser (invented by researchers at JKMRC) also provides UQ's undergraduates with real-world data and insights into the role of minerals in mineral processing.
The value of these types of learning experiences is best captured by perspectives from both students and industry leaders:
"this was probably the most relevant course to my degree that I've ever done" – Chemical and Metallurgical Engineering student
"I am constantly impressed by the high quality of the modern day UQ metallurgy graduates" Joe Pease, 2013, then Chief Executive Xstrata Technology
Staff from the SMI have been providing specialist teaching into the Chemical and Metallurgical Engineering program for more than a decade.  Since 2013, Dr Elaine Wightman (JKMRC) has been the course coordinator for the Process Mineralogy and Comminution course.  This year she is ably assisted by research staff: Dr Cathy Evans (BRC), Dr Kate Tungpalan (BRC), Pia Lois Morales (JKMRC); HDR candidates Rocio Vargas (BRC) and Bernard Agbenuvor (JKMRC) and professional staff Kellie Teale (JKMRC) and Tyson Cronin (SMI).
Both Cathy and Elaine have demonstrated their commitment to delivering best practice in education by undertaking a Graduate Certificate in Higher Education at UQ in their "spare time" (graduating in 2015).  They also contributed to the International Mineral Processing Conference Education Symposium (2016) from which the Mineral Processing Education Roadmap was published (see link below).  More recently, Elaine was admitted as a Fellow to the Higher Education Academy after undertaking the HEA@UQ program in 2019.
This small team of committed staff exemplifies one of the many ways in which SMI is contributing to producing game-changing graduates.
By the numbers – since 2013.
SMI has provided the complete teaching team for MINE3219, including course coordinator, lecturers and tutors
149 students have taken the course
10+ research staff have engaged in teaching
10+ HDR candidates have engaged in teaching activities
http://impc-council.com/impc-mineral-processing-education-roadmap/