Procemin-GEOMET2023 conference impressions: An alternative approach to conventional mineral liberation
Carolina Carvajal is a PhD candidate, investigating the fundamentals of mineral breakage at the grain boundaries by applying unconventional techniques such as nano/micro indentation. These techniques, often used extensively by materials scientists to characterize the mechanical behaviour of materials, are relatively unexplored by mineral processing engineers.
---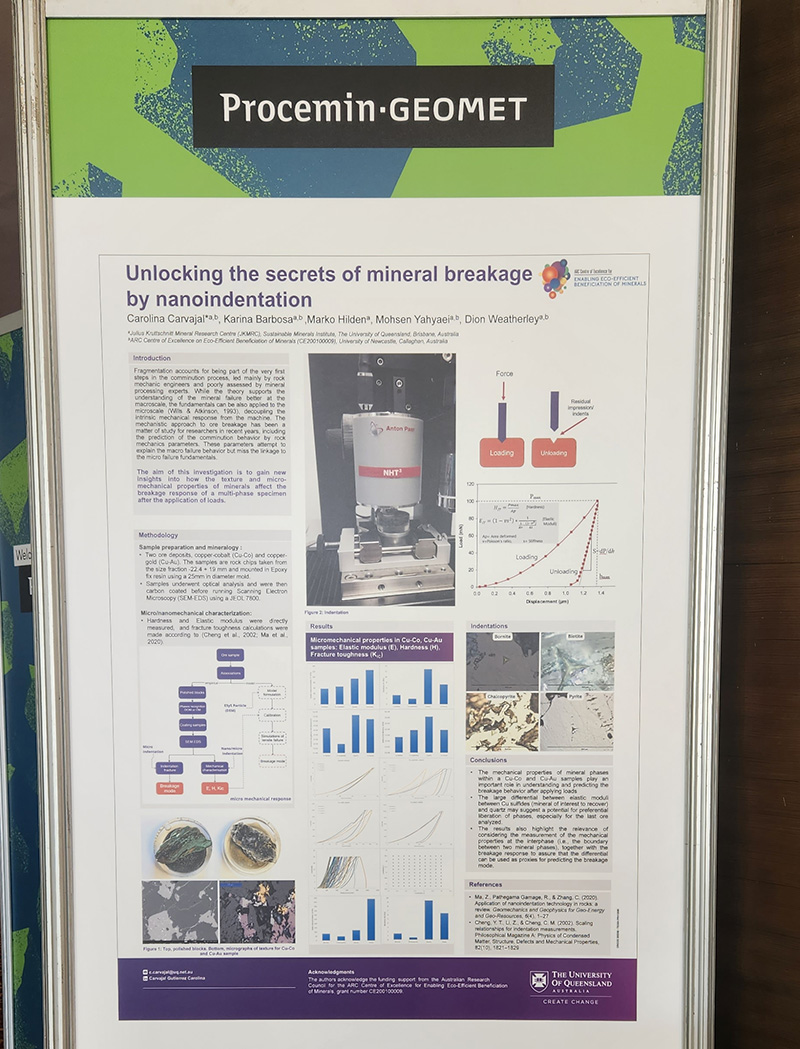 "Fragmentation accounts for being part of the very first steps in the comminution process, led mainly by rock mechanics engineers and poorly assessed by mineral processing experts. While the fundaments support the understanding of mineral failure at the macroscale, the same theory applies to the microscale".
This statement was shared as part of my investigation, carried out at the Julius Kruttschnitt Mineral Research Centre (JKMRC) from The University of Queensland, and funded by the ARC Centre of Excellence enabling eco-beneficiation of minerals. The research aims to apply rock mechanics and mineral failure behavior principles to achieve a more selective liberation of economically valuable minerals.
In October this year, I had the privilege of presenting my research's preliminary findings at Procemin-GEOMET 2023 in Santiago, Chile. This prestigious conference was centered on topics in mineral processing and covering aspects of geometallurgy. The event had over 90 presentations from professionals representing 15 countries.
Presentations at Procemin-GEOMET 2023 were characterized by their high-level discussion, offering valuable insights without digging too deeply into the technical aspects. This approach facilitated the engagement among attendees, particularly those who had not previously crossed paths with the presenters.
My research generated significant interest in people from the industry, flashing curiosity about the direction I am heading. This curiosity is the initial step towards advancing a deeper understanding, focusing on the fundamentals and the "why" behind the behaviors, all in seek of process optimization. Moreover, my interactions with fellow researchers and academics provided fresh perspectives and invaluable feedback on my findings. Collaboration and knowledge exchange was at the heart of this conference, serving as a catalyst for establishing new partnerships. An opportunity emerged to potentially collaborate with a Chilean University on the core topic of my investigation. 
My journey into mineral breakage at the grain boundary and ongoing contributions to the field of mineral processing represent an exciting endeavor into unknown territory. Through sharing my research at Procemin-GEOMET 2023, I am helping to close the gap between rock mechanics and mineral processing, potentially revolutionizing how we approach mineral liberation.