WH Bryan Mining Geology Research Centre
The WH Bryan Mining Geology Research Centre (BRC) is focused on creating industry impact through applied research and training in the areas of mining and geology.
BRC maximises the value of geoscientific data across the mining value chain in the pursuit of sustainable and responsible mineral production.
We are a team of 35 staff and postgraduate students, with female researchers making up just over 50 per cent of the staff. All of our staff have strong industry links and deep knowledge of real world industry challenges. Our staff have a unique combination of industry and academic backgrounds, with strong academic track records complemented by over 150 years of combined real world industry experience.
The Centre's capabilities combine economic geology, geophysics, environmental geochemistry, geotechnical, underground mass mining, mineral chemistry, structural geology and tectonics, geometallurgy, mineral processing and data analytics. We bring these skills to a broad range of geoscientific problems.
BRC's main areas of research focus are:
Total Deposit Knowledge – focused on the best possible understanding of the rock characteristics that will influence decision-making at every stage from exploration to mining and mineral processing.
Deep Mining Geoscience – focused on understanding the significant geoscientific technical and operational challenges associated with deep underground mass mining.
Mine Waste Transformation and Characterisation – aimed at improving methodologies for predicting the behaviour of future mine wastes, in order to protect communities,  reduce liabilities and realise potential economic benefits.
The Centre measures impact through engagement with industry partners and through uptake of ideas and recommendations, as well as more traditional academic outputs. Our outputs are reports, articles workshops, datasets, online tools and portals and organised forums.
BRC celebrated its 30th anniversary in 2022. In commemoration a booklet on the Centre's history comprising reflections from former directors of the BRC and some key staff was published.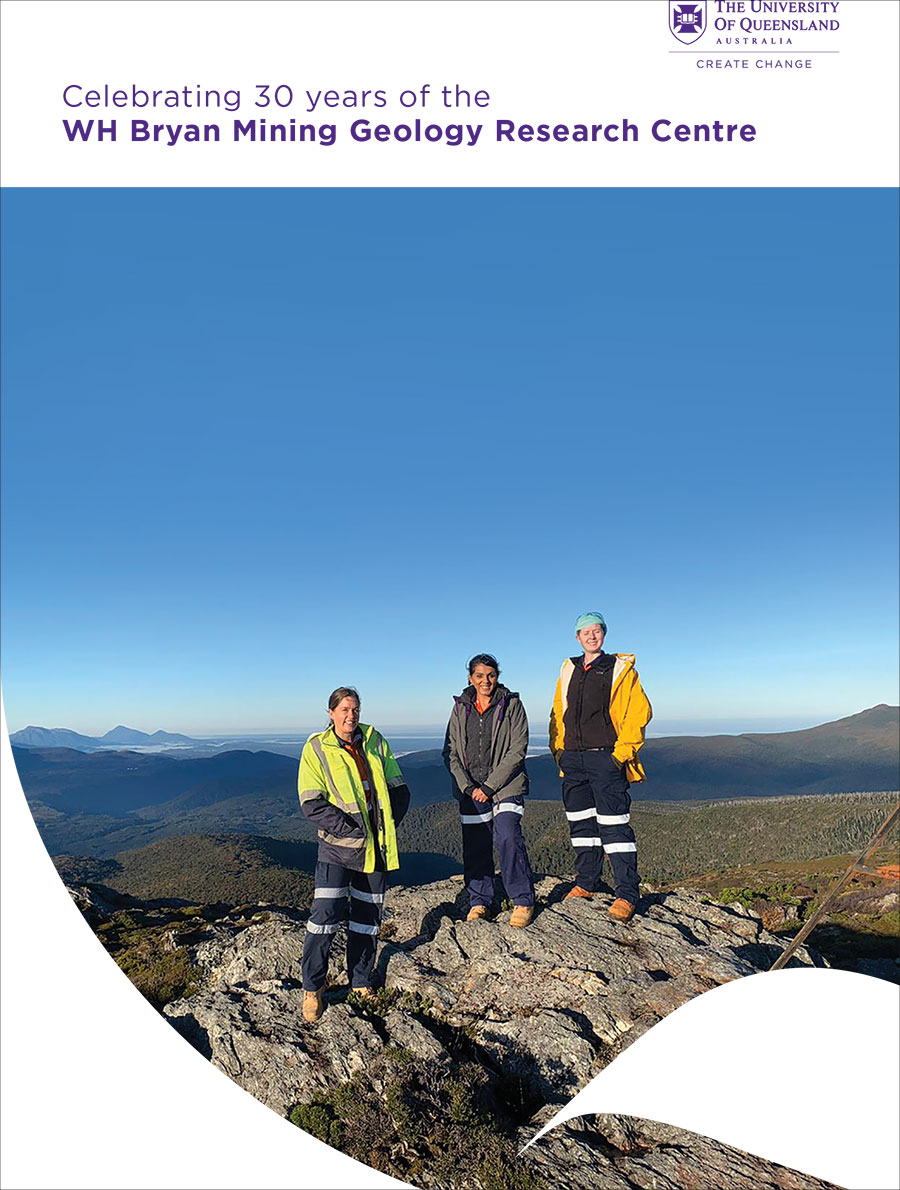 Download the bookletCelebrating 30 years of the
WH Bryan Mining Geology
Research Centre (.pdf, 4.6 mb)
Postal Address
WH Bryan Mining Geology
Research Centre
The University of Queensland
Experimental Mine Site
40 Isles Road
Indooroopilly, QLD 4068
AUSTRALIA
Director
Professor Mark Noppé
M:  +61 4 3885 5495
E:  m.noppe@uq.edu.au
How to Find Us
For maps to assist your travels in Brisbane and parking information. 
BRC is located at the UQ Experimental Mine Site a 10-15 minute walk from the Indooroopilly shopping centre.