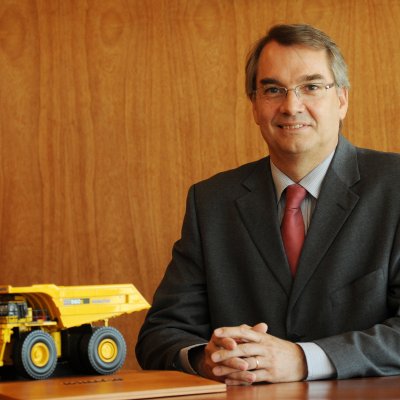 Dr Jeffrey Dawes, a former JKMRC PhD student who now heads up Komatsu Latin America, has been honoured by The University of Queensland with a Vice-Chancellor's Alumni Excellence Award.
Dr Dawes, whose 1987 thesis looked at the study of blast performance and design through the analysis of ground vibrations, has occupied increasingly senior positions with several companies during his career. These positions have culminated in his appointment as President and CEO of Komatsu Latin America where he is responsible for the Komatsu owned distributors in Latin America, as well as the Komatsu regional entity.
Former JKMRC Director Professor Emeritus Alban Lynch, who has known Dr Dawes since he began his PhD in the 1980s, said he was a deserving winner of this award.
"Jeff is a true visionary with an innovative approach to corporate philanthropy," Professor Lynch said.
"Over his professional career, and particularly over the last 15 years at Komatsu, Jeff has provided a unique balance of commercial and technical acumen and community outreach, which I believe has greatly enhanced the value that Komatsu is providing to South America's future.
"His ability to develop robust relationships with all levels of political, industry and social leadership has afforded him the ability to realise many social welfare projects and be one of the leading examples for corporate social responsibility and shared value in South America."
"Jeff believes in the idea that companies cannot succeed in societies that fail. Companies are focused on return on investment and corporate social responsibility (CSR) doesn't always have measurable returns. But he believes that corporate participation in social programs generates positive impact inside a company through identity and cohesion. The involvement of employees in programs of CSR makes them proud of their employer and elevates their morale. Komatsu's employees are involved in volunteering programs (during working hours) in the areas of community and social justice, environmental protection activities and other programs like the Cooperation Project to rebuild school in Haiti for 800 girls that was destroyed in the 2010 earthquake."
The awards recognise the achievements of alumni who have accomplished outstanding success in their fields and made exemplary contributions to their communities. There are six Vice-Chancellor's Alumni Excellence Awards, five Distinguished Young Alumni Awards, an International Alumnus of the Year, an Indigenous Community Impact Award and a Colleges' UQ Alumni Award.
UQ Vice-Chancellor Professor Peter Høj said the winners were proven leaders who had taken on major challenges and responsibilities and created positive change.
"The impact UQ has in communities around the world is not limited to cutting-edge research, but very importantly through the actions and accomplishments of our 225,000 alumni," he said. 

"Our UQ alumni family is a constant source of inspiration."