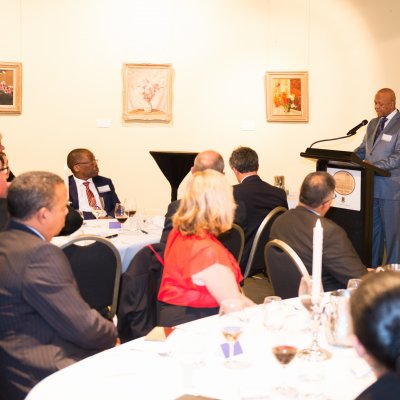 A high-level South African Government delegation will be hosted by The University of Queensland this week to study how the Australian mining industry deals with community and workforce management issues.
Led by Professor David Brereton, Director of People Centres at UQ's Sustainable Minerals Institute, the study tour will include the South African Minister in the Presidency for Planning, Monitoring and Evaluation (DPME),  Hon Jeffrey Radebe and the Minister for Labour, Hon Mildred Oliphant.
Professor Brereton said a key aim of the study tour was to draw lessons from Australian mining that can be applied to the South African context. "We will be exploring the norms and best practices in Australian mining law, implementing legislation, as well as enforcement and oversight mechanisms of governments and practices of mining companies," Professor Brereton said.
The tour will include three days visiting communities and mines in Queensland's Bowen Basin to learn about practices on the ground. Key areas of focus will include:  housing for mineworkers and their families, promoting mine worker and community health, employee relations, and mining industry support for socio-economic development in mining locales.
UQ's Vice Chancellor, Professor Peter Høj, said he was delighted UQ was hosting the study tour and that the Australian Government had recognised UQ's expertise in this area.
"Through the Sustainable Minerals Institute, UQ is well placed to work with the South African government to showcase Queensland's, and Australia's, mining experience " Professor Høj said.
"We hope that the delegation comes away from the tour with insights that will help them address the complex socio-economic challenges associated with mining in South Africa."
While in Brisbane, the group will meet with representatives from the Department of Natural Resources and Mines and the Department of State Development, as well as the Queensland Resources Council, Austrade, and Trade and Investment Queensland.  
The study tour is part of a wider UQ –led project, under the Australia-Africa Partnerships Facility, comparing mining policy and frameworks in South Africa, Australia, Zambia and Chile. The benchmarking study and study tour will inform a high level Symposium to be held in Johannesburg in September to discuss in depth current and future mining policy in South Africa.
The study tour will run from August 24 to 28 and is funded by the Australian Department of Foreign Affairs and Trade through the Australia-Africa Partnership Facility.