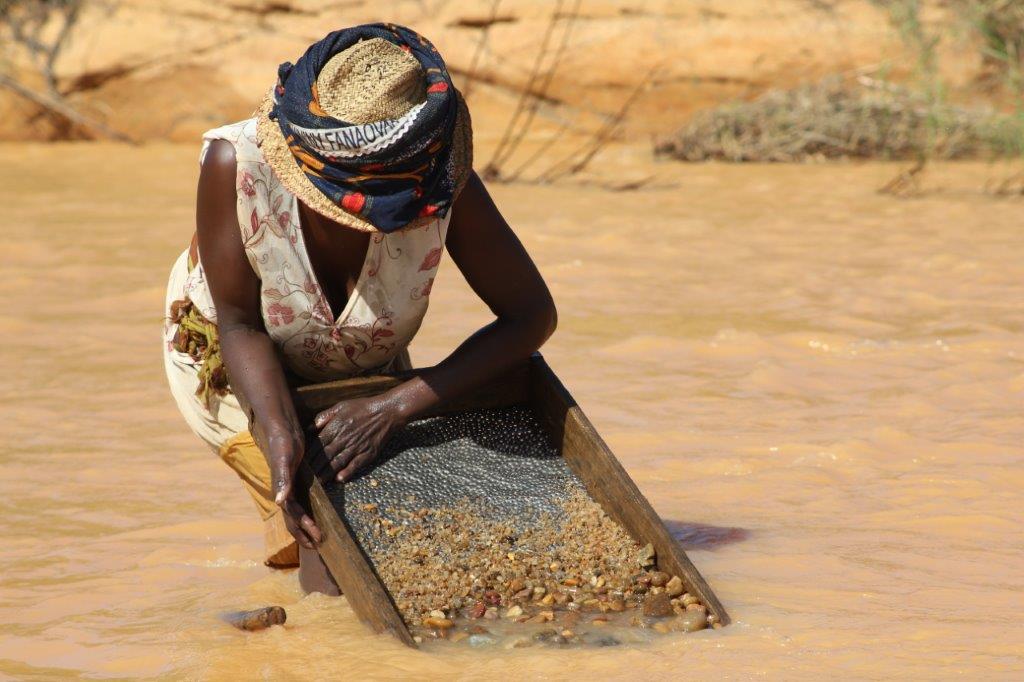 Female sapphire miners in Madagascar are among the nation's hardest workers and poorest people, but their future is looking brighter, thanks to University of Queensland research.
UQ Sustainable Minerals Institute PhD student Lynda Lawson has led the development of training and resources to improve the independence and financial autonomy of women sapphire miners.
"The most striking feature of the sapphire business in Madagascar is the absence of support for local people, particularly women, who seek to make a living in this trade," she said.
"The story of mining is so often seen as a male frontier, but there are many women involved in mining and no one has told their story."
Ms Lawson has spent the past four years working with the women to document and analyse their lives, focusing on the pathways, opportunities and challenges in the sapphire industry.
Her work has attracted the attention of German development agency Deutsche Gesellschaft für Internationale Zusammenarbeit GmbH (GIZ), which asked her to complete a baseline study on women working in the south-west sapphire fields.
"I found that these women were among the poorest in Madagascar, with very low rates of education and few opportunities," she said.
"Thousands of women are involved in work with sapphires and other gemstones in Madagascar, but they have very few opportunities to participate in the gemstone trade beyond sieving tailings in the river, surface mining and selling small stones, where they are referred to as 'the ladies in hats'."
Ms Lawson saw an opportunity for the women to add value to the stones they found, and created a basic field gemmology course with UQ geology graduate and gemmologist Charles Lawson.
"The first step in adding value is knowing about the gems you're selling," she said.
"Each woman was supplied with a basic gemmology kit – a loupe (a small magnifier), tweezers, a torch and a guide book in Malagasy and English – and was taught how to identify the stone and its quality.
"Their negotiating skills have been greatly enhanced by knowing their stones, and being able to use simple tools such as tweezers and a loupe has been financially empowering."
Ms Lawson is now working on a suite of online materials to be used anywhere and a project focussing on health and safety issues related to cutting gems.
She recognises there are many challenges to overcome, but is hopeful for the women's future.
"The commercial world has a growing awareness and concern about where stones come from, the conditions miners and cutters work in, and the possible associations with environmental damage, conflict and health risks," she said.
"And I've discovered a lot of goodwill from women in other parts of the supply chain and a feeling of responsibility toward improving the situation of the women miners."
Ms Lawson's latest work is undertaken through the Gemstones and Sustainable Development Knowledge Hub, a collaboration between UQ, University of Delaware and Lausanne University and funded by The Tiffany & Co. Foundation.
Read the full story on UQ's Research Impact website.
Media: Lynda Lawson, l.lawson1@uq.edu.au; Gillian Ievers, UQ Sustainable Minerals Institute, g.ievers@uq.edu.au, 07 3346 4233 / 0438 121757.