Senior UQ Delegation visit Chile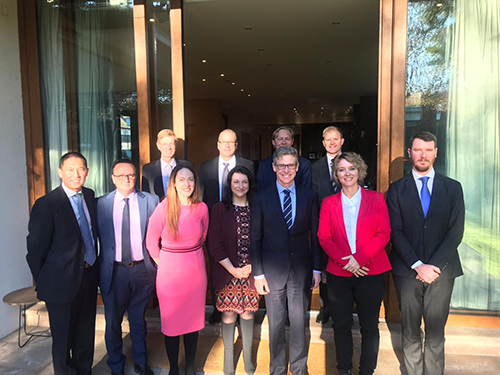 Professor Neville Plint joined a delegation led by the Deputy Vice-Chancellor (External Engagement), Mr Rongyu Li, on a brief visit to Chile organised by SMI-ICE-Chile on 17 and 18 June. Other members of the delegation were Dr Jess Gallagher (Director, Global Engagement and Entrepreneurship), Prof Andrew Griffiths (Executive Dean, Faculty of BEL), Prof Michael Bruenig (Head, School of ITEE) and A/Prof Damian Hine (Acting Director, Australian Institute for Business and Economics, Faculty of BEL)
The group had meetings at Pontificia Universidad Católica de Chile with senior representatives from the International Office, the Innovation Centre (Directors of Technology Transfer and Entrepreneurship), the Faculty of Engineering, and the School of Business Administration. They also met with staff of the International Cooperation Program at CONICYT (the National Commission for Scientific and Technological Research), representatives of a number of divisions within CORFO (the Production Development Corporation within the Ministry of Economy), and the Vice-Minister of Mining, Pablo Terrazas.
The Australian Ambassador to Chile, Robert Fergusson, hosted a breakfast for the delegation and provided a welcoming address at a seminar on "Leading Innovation for Sustainable Development". Andrew Griffiths, Michael Bruenig, Neville Plint and SMI-ICE-Chile's Romke Kuyvenhoven delivered presentations on the topic, and this was followed by a networking event attended by almost 100 stakeholders and alumni.
Global Research Consortium on Tailings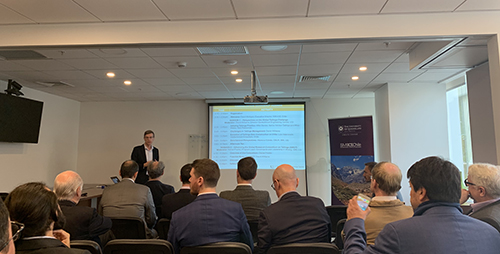 The first consultation workshop of the Global Research Consortium on Tailings took place in the SMI-ICE-Chile offices in Santiago on 9 July. The Consortium, conceived by Professor Daniel Franks and Professor Anna Littleboy, aims to bring together the world's leading thinkers in tailings and mine waste management to develop transdisciplinary knowledge solutions.
The workshop was attended by 29 representatives from academia, industry and civil society and was supported by SMI-ICE-Chile and CORFO. The purpose was to solicit feedback and to develop a prospectus for further discussion and support. Strong support and enthusiasm was expressed by the attendees, and work is underway to develop the prospectus for consideration at a further forum to take place prior to the Tailings and Mine Waste 2019 Conference in Vancouver Canada.