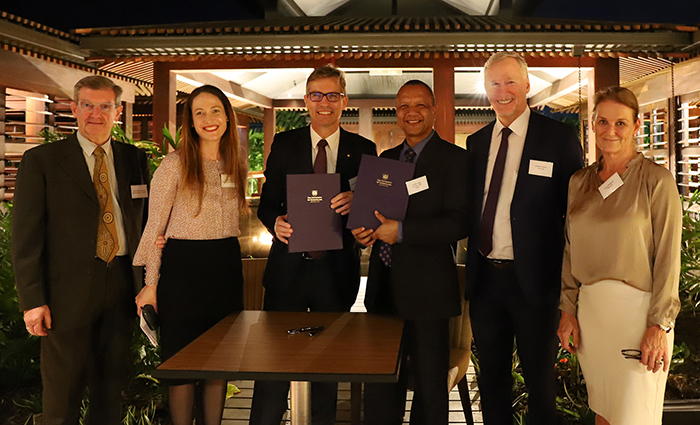 The University of Queensland has partnered with Papua New Guinea's largest technological institution to support sustainable development outcomes across the country's resources sector.
President and Vice-Chancellor of UQ, Professor Peter Høj AC, and UNITECH Vice-Chancellor Associate Professor Ora Renagi OL signed the agreement in Port Moresby, committing to collaborate across education and research activities.
The partnership builds on previous collaboration in mineral processing education, as well as a history of joint involvement in agricultural and animal science research.
Industry partner Newcrest Mining and the Australian Department of Foreign Affairs and Trade (DFAT) have both contributed funding to identify priority areas and project concepts.
Newcrest will also fund scholarships for three PNG PhD students to develop their research at UQ, with a view to growing technical expertise and supporting social and community development within the country's mining sector.
Director of UQ's Sustainable Minerals Institute, Professor Neville Plint, said the multi-faceted partnership will build in scope, and strengthen long-lasting collaboration between the two institutions.
"UNITECH is PNG's principal institution for teaching mining-related disciplines, while UQ is ranked third in the world for mining and mineral engineering. Together, we have great potential to shape the sustainable development of our region's resources industry," Professor Plint said.
"Many UNITECH researchers and staff have worked with UQ in recent years, supported by the Australia Awards Program and other Australian Government initiatives, to help build capacity within PNG.
"We now look forward to even more people-to-people links with our neighbours in the Pacific, working with Newcrest and other partners to deliver impact."
Head of the Department of Mining Engineering at UNITECH, Dr Gabriel Arpa said he welcomed the strengthened relationship between the two Universities.
"Working together in research and education activities will help to build the human capital which we need to support the significant resource developments planned for the region, and to maximise the benefits of these developments for the people of PNG," Dr Arpa said.
The Letter of Intent between UQ and UNITECH was signed on Wednesday, 31 July 2019 at an event hosted by Newcrest Mining.
UQ's Sustainable Minerals Institute is a world leading research institute committed to developing knowledge-based solutions to the sustainability challenges facing the global mining and resource industry, and to training the next generation of industry and community leaders.
Media: Gillian Ievers, g.ievers@uq.edu.au, +61 438 121757.