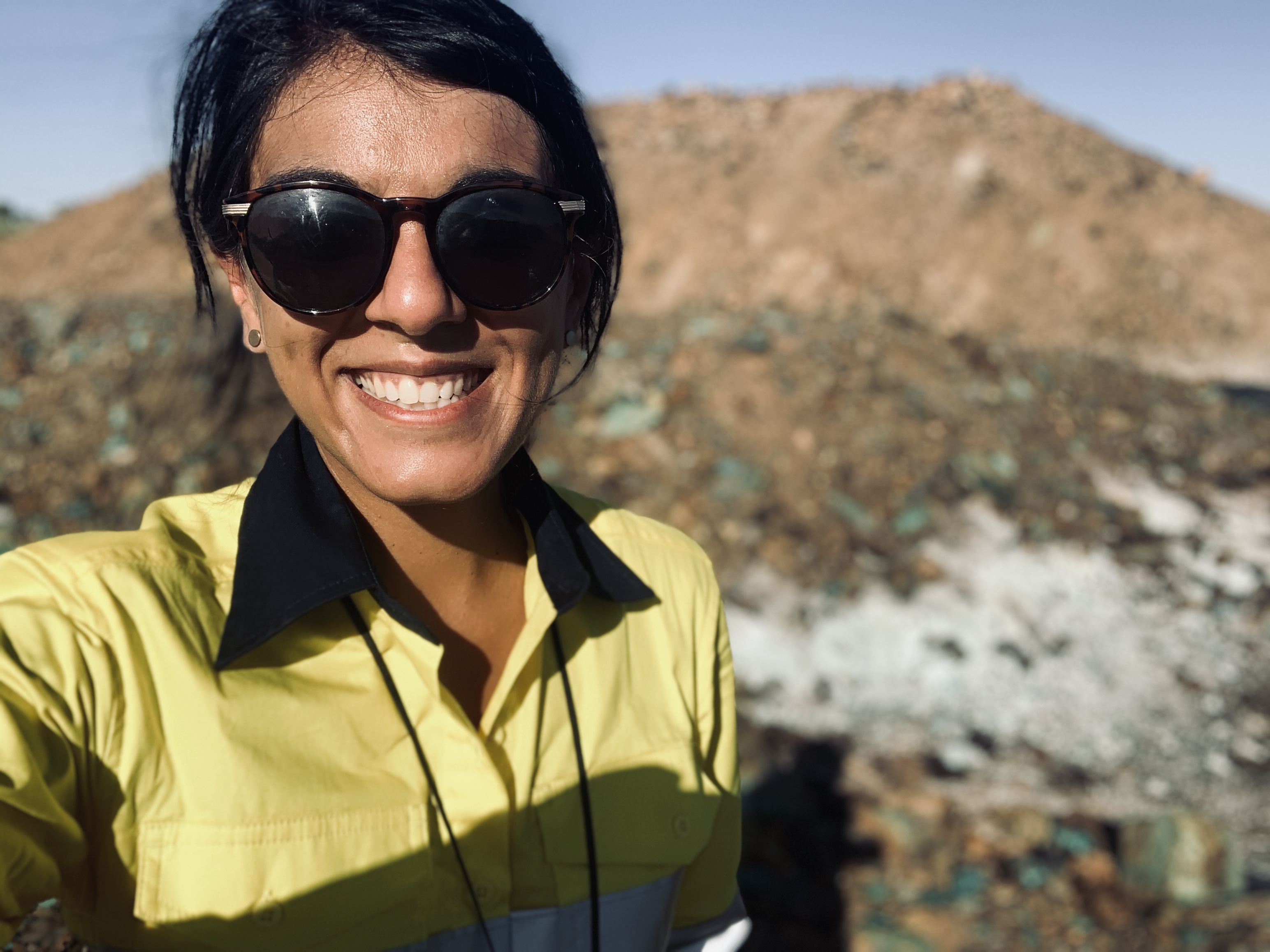 Since joining the Sustainable Minerals Institute's (SMI) W.H.Bryan Mining & Geology Research Centre, Dr Anita Parbhakar-Fox has made her mark on the local Geometallurgy and Applied Geochemistry scene. Driven by a zeal for mine waste management, Anita is working closely with mining industry, METS sector and government stakeholders to achieve real change in the space. 
Ahead of International Women's Day 2020, we sat down with Anita to ask her a few questions about her career.
Could you walk us through your career prior to joining SMI?
"I graduated in 2005 from Imperial College in London, where I studied environmental geology. When I graduated I was one of those students who didn't know whether they wanted to go right into a PhD or if I wanted to go and work, and for a little while I was in that weird headspace.
"I worked for just over a year in SE England, but I didn't really feel like the skills I had learnt throughout my degree were being applied or developed in the way I wanted them to be. So, I had an opportunity to come and study in Australia and undertake the PhD I was thinking about doing at the University of Tasmania, specifically the Centre for Ore Deposit and Earth Sciences (CODES).
"Before the PhD started, I worked as a research assistant to the AMIRA P843 GeM project for a year, which was a project co-run by The University of Queensland and the University of Tasmania, and that was when my relationship with UQ started.
"I then went on to start my PhD in environmental geosciences, which focused on evaluating how the mining industry predicts acid and metalliferous drainage (AMD).
"When my PhD concluded the research was far from over, so through CRC ORE and the ARC Research Hub for Transforming the Mining Value Chain I undertook two postdoctoral research positions focused on mine waste management, AMD prediction and, more recently, extracting value from mining waste.
"I didn't really mean to pursue an academic career, my intention was always to go and work in the mining industry after finishing my PhD. But, a surprise during my PhD was having my first child. It caused me to refocus my ideas in terms of what I was going to do when I finished."
What have been the highlights of your career?
"Recently starting a new project with the DNRME focusing on critical metals extraction from mine waste has been a highlight because I feel like my career to date has been working towards encouraging a range of stakeholders to better manage their mine waste, but now I can make this argument by presenting a business case where stakeholders can see a monetary value, attitudes are changing and will continue to as the decade evolves."
Have you seen changes in the way women are treated or viewed in the workplace across your career?
"There have also been big changes in supporting women in mining, there have been big pushes by professional bodies and the industry as a whole. I've been involved in organising conferences, and there's been a big push to achieve equity in the speakers and panels and so forth, which is great.
"From a female point of view, you don't want to be championed because you are a woman, so it can be tricky to manage being sensitive but inclusive. But at least there is a push to encourage women to in geoscience to go for gold and people are thinking about ways to help facilitate this."
Based on your own experiences, what advice would you give to young women about to start their career?
"When it comes to advice, there's obviously clichés – back yourself and all of that – and they are true, one of the things that has kept me going is having self-confidence. You don't have to be the loudest voice in the room, but you do have to believe in yourself. How can you expect others to if you don't?
"Don't be afraid to fail. Failure isn't a bad thing and doesn't make you worse than the bloke next to you. But, make the failure mean something, learn from it - that is really important. Life is full of curve balls so make sure you are adaptive and resilient."
If you would like to learn more about the Sustainable Minerals Institute, its people and its research, visit  smi.uq.edu.au.