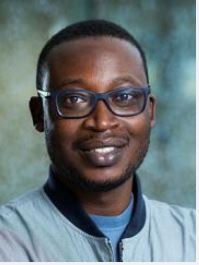 As part of the five-year partnership agreement between The University of Queensland and Newcrest Mining, Bellson Awatey has been appointed as JKMRC's Newcrest Research Fellow, with responsibility for coordinating the collaborative projects between the two organisations.
Bellson, who brings extensive experience to the role, said he is looking forward to the challenge.
"I have worked in roles bridging industry and academia, and getting to understand both perspectives has been a learning curve," he said.
"I see myself as a good communicator, which I think will be important for this role."
After graduating in Mineral Engineering, Bellson's first job was as a plant metallurgist working on flotation with Gold Fields in his native Ghana.
He came to Australia to study his PhD at the Ian Wark Research Institute at the University of South Australia (UniSA), before taking up a lecturing position at the University of Mines and Technology, Ghana.
Since returning to Australia in 2017, Bellson has worked with UniSA's Future Industries Institute and most recently with SIMEC Mining in Whyalla, where he was a process engineer in the Technology and Innovation Department.
Associate Professor Kym Runge who leads JKMRC's partnership with Newcrest, said she was looking forward to working with Bellson.
"Robust and well managed industry partnerships are a priority for the SMI, and Bellson will be helping to create open lines of communication and knowledge transfer for this important initiative," she said.