A new report has highlighted a rare success story for groundwater co-management and described the positive outcomes stemming from a South Australian community's collective action against plummeting water quality and quantity.
Lead author Sarah Shalsi, from the SMI's Centre of Mined Land Rehabilitation, worked with Dr Carlos Miraldo Ordens  from SMI's Centre for Water in the Minerals Industry), Professor Craig Simmons (Flinders University) and Professor Alan Curtis (Charles Sturt University) on a follow-up study about lessons learned in the Angas Bremer irrigation district in South Australia – where a community-led groundwater management plan has been operating since the 1970s.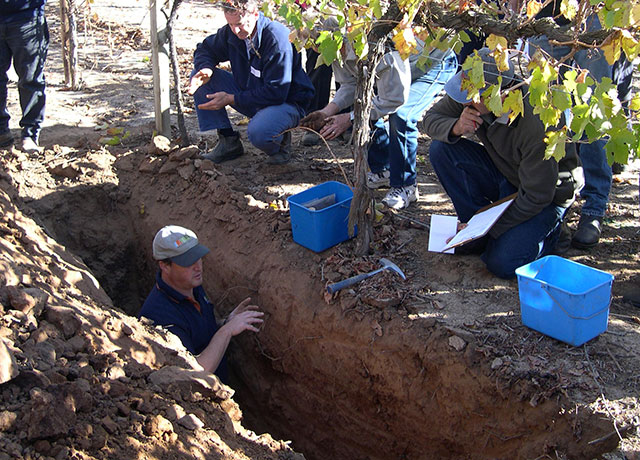 Ms Shalsi explained that good management of groundwater – the water 'hidden under our feet' in aquifers – relies heavily on trust, cooperation and meaningful consultation between governments and locals involved in water use and management.
"This highly complex process remains very challenging to pull off, but was undertaken with great success by collective action group Angas Bremer, within the Murray–Darling Basin," she said.
"This is one of the rare good-news stories about groundwater extraction."
When local irrigators saw a precipitous drop in their groundwater quality and quantity, they worked together and with government departments over 20 years to: reduce their groundwater extraction by 80%; increase the recharge of aquifers from excess surface water; achieve higher profitability and less water use by changing their cropping; and raise funds to build pipelines to access surface water.
The report's results highlight a range of important factors for encouraging collective action in communities:
people being able to 'see' the crisis, its causes and consequences
a small community of likeminded people with shared values, goals and norms
strong leadership from people respected in the community
a trustworthy, two-way relationship between people and (in this case) government
community's views heard by the government and represented in policy.
Although community composition can be hard to replicate, and groundwater management is highly contextual, Ms Shalsi said there are many lessons for effective groundwater management strategies.
"We found a major lesson around funding and the massive benefits gained by government hydrogeologists going into the field, getting to know the irrigators and forming good relationships with them.
"We saw this built trust and people were able to implement the [eventual] policies because they knew the specialists, had their ideas taken into account and had autonomy."
Ms Shalsi said the findings of the follow-up study are a resource on how to achieve successful groundwater governance (including efficient and effective reforms).
"This report shows the importance of participatory management processes and provides help for government agencies to understand what motivates communities to engage in collective action and how that leads to success."