The Sustainable Minerals Institute has expanded its research capacity with the launch of a new Flotation Chemistry Research Group.
Led by Julius Kruttschnitt Minerals Research Centre (JKMRC) researcher Associate Professor Liza Forbes, the Group strives to advance knowledge in the flotation chemistry space and work in collaboration with partners to produce practical solutions to industry problems.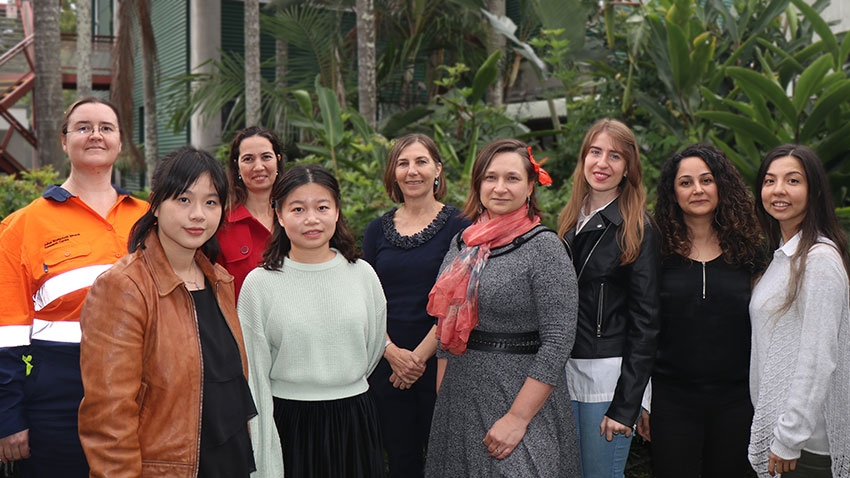 "The group aims to develop technologies and to continue to build an understanding of chemistry, from both the fundamental and practical perspective," Associate Professor Forbes said.
"Flotation is an integral part of any mineral processing operation. It is one of the primary steps of mineral beneficiation and chemistry is a key component of that system."
Associate Professor Forbes said flotation related research at JKMRC was initially conducted through the Separation Program, but an increase of staff expertise and a growing awareness of the importance of flotation chemistry led to the creation of the new group.
"It was decided to form a specific group that would have a more narrow focus on chemistry rather than a broad focus on flotation in general," Associate Professor Forbes said.
"We continue to work very closely with the Separation program because the two aspects of the flotation process, chemistry and hydrodynamics, are largely inseparable and cannot be studied in isolation."
The Flotation Chemistry group includes three researchers and five PhD students, who all focus on various areas of research within the flotation space.
Associate Professor Forbes said the launch of the new all-female group is very exciting.
"It is a remarkable position to be in, to have the opportunity to grow and help develop young researchers who are just starting their careers in what is a very challenging, very complex discipline," she said.
"There isn't a lot of work being done in this discipline globally and as a young researcher it's very hard to find an appropriate level of knowledge and mentorship in this area. There's only a couple of centres in the world that work in this field of research."
The Flotation Chemistry Group is working closely with partners such as the ARC Centre of Excellence for Eco-efficient Beneficiation of Minerals, as well as industry partners such as Glencore, Newcrest Mining, Newmont, Hudbay, Rio Tinto, Anglo American, Aeris Resources, Eriez Flotation Division and Baker Hughes.
"Most of our projects are industry related. We also have a purely fundamental project that gives us the freedom to explore some of the more esoteric, fundamental aspects of research." Associate Professor Forbes said.
"This research area is boundless. We certainly want to continue to build on our strengths, but we also want to develop into new areas."
Contacts: Associate Professor Liza Forbes, Principal Research Fellow, l.forbes@uq.edu.au, 0406 759 977; Sasha Ackfun, Communications Officer, s.ackfun@uq.edu.au, 0447 812 081.