Heavy metals like nickel and zinc are usually the last thing that plants want to grow next to in high concentrations.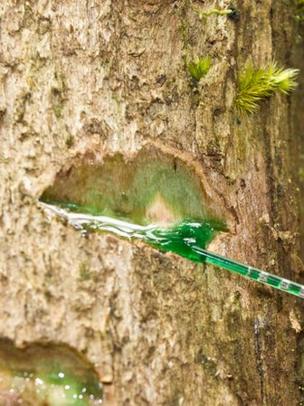 But a specialised group, known as hyperaccumulators, have evolved to take up the normally toxic metals into their stems, leaves and even seeds.
Researchers have been studying Pycnandra acuminata in particular - a tree that grows on the island of New Caledonia in the south Pacific.
They think it may use the nickel to defend against insects.
Its latex has an unusual blue-green colour as it contains up to 25% nickel.
Content from: BBC NEWS "The tree that bleeds... metal?" 5 September 2018 
---
Hyperaccumulators are unusual plants that accumulate particular metals or metalloids in their living tissues to levels that may be orders of magnitude greater than is normal for most plants growing on similar soils. Discovering hyperaccumulators and understanding their agronomy could lead to identifying potential species to be utilized in novel phytotechnologies such as phytomining for phytoextraction of valuable metals.
Currently, there are approximately 450 documented Ni hyperaccumulators worldwide. The majority of the nickel hyperaccumulators have been recorded in Cuba (130), Southern Europe and Minor Asia (80–90), and Malaysia (24). In New Caledonia there are 65 documented Ni hyperaccumulators. One of the most unusual is the tree Pycnandra acuminata, endemic to New Caledonia, which has a latex that contains up to 25.7 Wt% nickel colouring it blue-green from nickel ions.
The current research has been undertaken as part of Vidiro Gei's PhD project. Her study aimed to spatially resolve the elemental distribution in five different New Caledonian nickel hyperaccumulator plant species using synchrotron-based micro-X-ray Fluorescence imaging. The experiments were undertaken at X-ray fluorescence beamline (P06) of PETRA III (Deutsches Elektronen-Synchrotron; DESY) in Hamburg, Germany with collaborators from New Caledonia and France.
Project members: Dr Antony van der Ent, Vidiro Gei