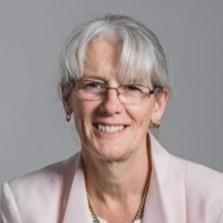 The Sustainable Minerals Institute (SMI) is pleased to announce the appointment of Dr Maureen Hassall as Professorial Research Fellow and Director of the Minerals Industry Safety and Health Centre (MISHC).
Professor Hassall will be joining SMI following a distinguished career at The University of Queensland's (UQ) School of Chemical Engineering, where she led UQ r!sk, a human-centred risk research program focused on identifying and addressing current and future socio-technical risks facing industries as they transition into the 'Industry 4.0' era. 
Professor Hassall's extensive experience includes 18 years predominantly in the mining and minerals processing industry performing specialist engineering, line management, organisational change and business performance improvement roles, as well as an academic career in which she was responsible for the delivery of world-class collaborative research programs and publications.
"The Industry is transitioning to Industry 4.0, zero carbon world in an environment challenged by climate change and changing stakeholder, regulatory and sociopolitical expectations," Professor Hassall said.
"Utilitising human-centred, risk-based approaches can help identify, assess and manage the multifaceted risks including safety, health and well being issues that will emerge from these [r]evolutions.
"Proactively addressing these big and sometimes wicked problems is a must if the Industry wants to attract a diversity of high calibre professionals and sustain its competitiveness into the future. 
"I have sat in that line manager's seat with a team of over 50 and found there is a lack of scientifically proven approaches to sustainably improve the health, safety and wellbeing of workers, workplaces and impacted stakeholders including the environment.
"This led me to complement my Engineering degree with an Organisational Psychology degree and then do my PhD and now it motivates me to continue the journey of developing scientifically proven, practical and impactful research and education solutions for Industry."
SMI's Director Professor Neville Plint and Deputy Director – Production Professor Rick Valenta, said Professor Hassall's appointment would bring a strong background across the range of MISHC activities.
"Professor Hassall brings an important combination of industry experience and broad academic expertise, and she has all the right tools and experience to understand the safety and health challenges faced by industry and to lead and augment research and training focused on addressing those challenges," Professor Plint said.
"Professor Hassall's deep understanding of the various important dimensions of risk will make a great contribution across the full range of activities of the SMI."
MISHC was established in 1998 and aims to develop innovative research, technologies and training platforms to address the safety and health challenges faced by the mining sector.