Researchers from the Sustainable Minerals Institute have been recognised at The University of Queensland's Research Partnerships and Translation Awards – taking home two of the night's top awards.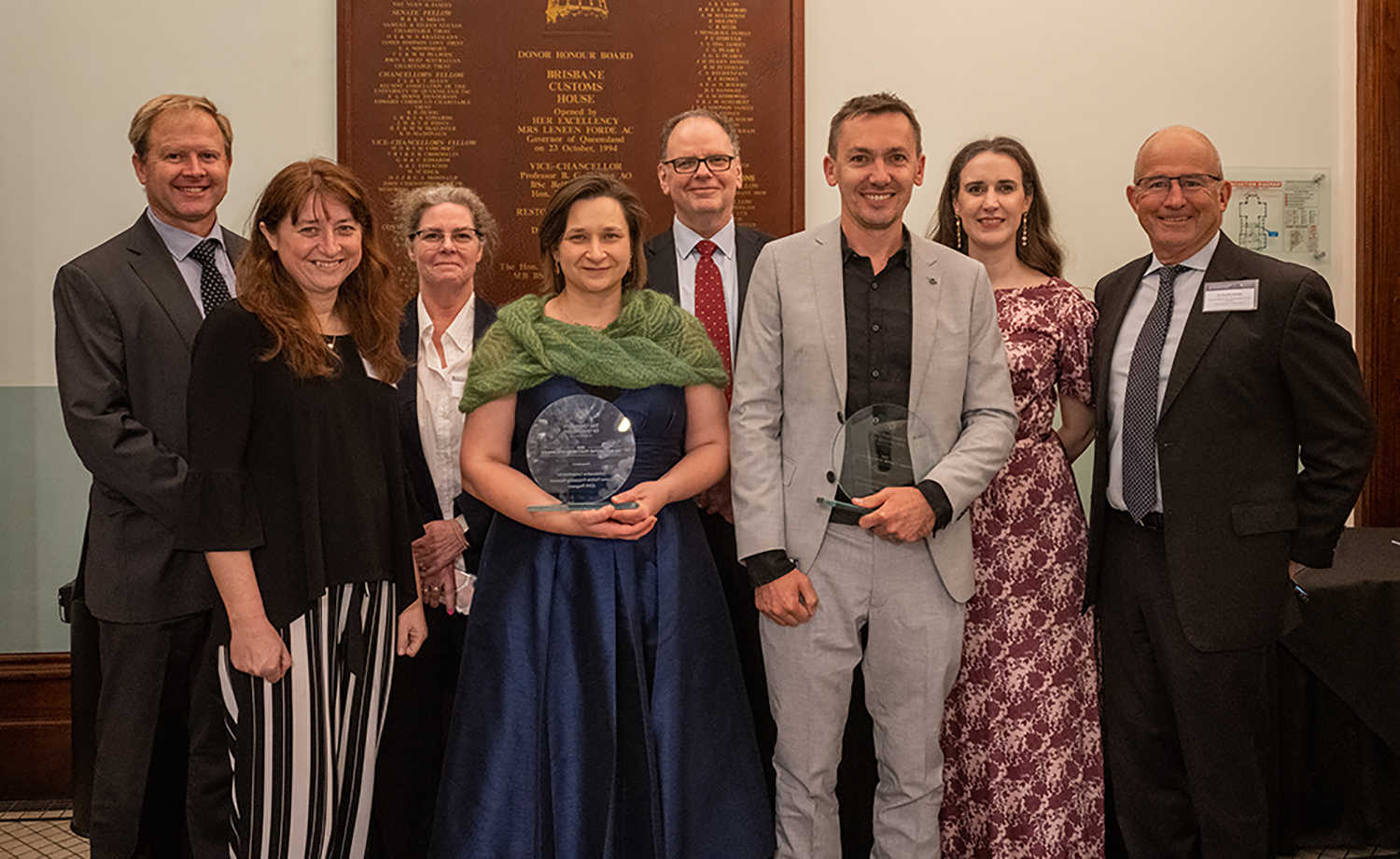 The
Collaborative Consortium for Coarse Particle Processing Research (CPR)
, which is led by researchers from SMI's Julius Kruttschnitt Mineral Research Centre received the
Innovative Partnerships Award
while researchers from the
Development Minerals Program
whose work underpinned a new United Nations Environment Assembly resolution on 'Environmental aspects of minerals and metals management' received the
Research Impact Award
.
Leader of the Development Minerals Program
Professor Daniel Franks
said the team were invited to convene global consultations for a United Nations Environment Assembly (UNEA) to strengthen international cooperation on mineral governance.

The project was undertaken with funding support from the Federal Office of the Environment of the Government of Switzerland.

"With our partners in the United Nations Environment Programme, we held 23 consultative meetings attended by 1280 people from 123 countries with interpretation in all UN languages," Professor Franks said.

"The consultations revealed a range of priority areas and provided the basis upon which recommendations and suggested actions were presented for consideration by the UN Environment Assembly at its fifth session.

"On the basis of our work, in March 2022 UN Member States adopted UNEA resolution 5/12 on Environmental aspects of minerals and metals management."
Technical Director for the Collaborative Consortium for Coarse Particle Processing Research (CPR)
Associate Professor Liza Forbes
said the Consortium tackles multidisciplinary aspects of coarse particle processing such as flotation, comminution, classification, and equipment design and process chemistry.

"CPR members include representatives from Rio Tinto, Glencore, Anglo American, Hudbay Minerals, Newcrest Mining, Aeris Resources, Baker Hughes, Eriez Flotation and Newmont Corporation," she said.

"The aim is to improve the industry's understanding and implementation of flotation so operations can run coarser, or larger, rocks through their circuits and therefore use less energy in the first step of mineral processing.

"We facilitate joint discussion between companies that are otherwise fierce competitors, and one of the biggest successes of the CPR is the careful establishment of trust between UQ and industry partners, as well as between the partners themselves, over multiple years."
SMI's Acting Director
Professor Rick Valenta
said he was delighted SMI's research excellence had been recognised by the University.

"SMI is a community of experts; we collaborate and partner across the University and with stakeholders to ensure we are bringing the best minds to find solutions to key challenges, these awards are an important acknowledgement of the excellent work underway at the Institute," he said.

Media: g.ievers@uq.edu.au, 0438 121757