A Consortium of Sustainable Minerals Institute (SMI) researchers and mining industry partners has been recognised as a model for collaborative, applied research at the UQ Research Partnerships and Translation Awards.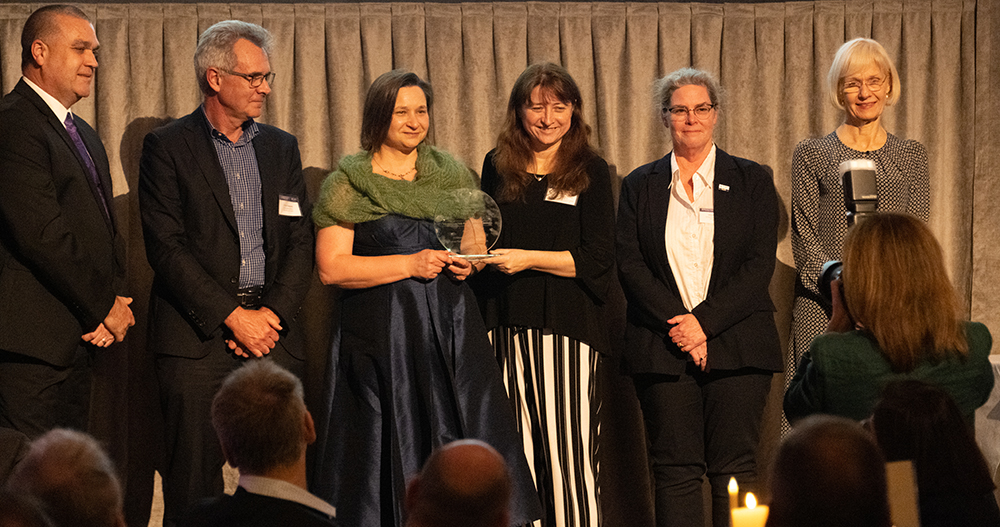 The CPR tackles multidisciplinary aspects of coarse particle processing such as flotation, comminution, classification, and equipment design and process chemistry. Consortium members include representatives from Rio Tinto, Glencore, Anglo American, Hudbay Minerals, Newcrest Mining, Aeris Resources, Baker Hughes, Eriez Flotation and Newmont Corporation.
CPR Technical Director
Associate Professor Liza Forbes
said successfully building an international, multi-commodity platform to advance research is a significant achievement.

"The first step in any mining operation is a highly energy-intensive process of grinding large rocks into tiny particles called 'comminution', which is followed by a separation process called 'flotation'," Dr Forbes said.

"The Consortium aims to improve the industry's understanding and implementation of flotation so operations can run coarser, or larger, rocks through their circuits and therefore use less energy in the first step.

"Just making that change, reducing the size the rocks need to be crushed to, could decrease the amount of energy used by between 30% - 50%.

"SMI facilitates joint discussion between companies that are otherwise fierce competitors, by providing a "safe" space to do so, with appropriate confidentiality protections.

"And one of the biggest successes of the Consortium has been the careful establishment of trust between UQ and industry partners, as well as between the partners themselves, over multiple years," she said.

Glencore General Manager - Metallurgical Processing, Virginia Lawson said the Program gives confidence to the company's operations.

"The CPR program helps us understand the fundamentals of coarse particle recovery, which enables us to apply new technologies with confidence to our operations.  

"This award recognises the importance of this work to the industry - congratulations to the team," she said.