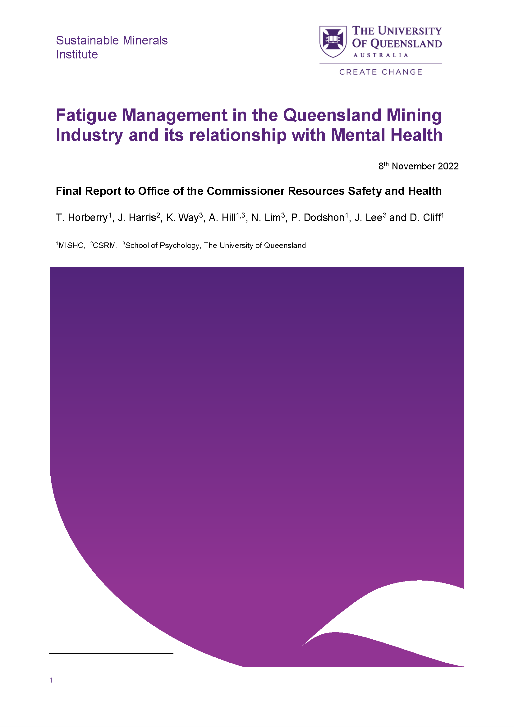 Fatigue management in Queensland's mining industry has improved considerably in recent years but more needs to be done to understand the relationship with mental health according to a new report by The University of Queensland's Sustainable Minerals Institute (SMI).
Produced by researchers from SMI's Minerals Industry Safety and Health Centre (MISHC) and published by the Queensland Commissioner for Resources Safety and Health, Fatigue Management in the Queensland Mining Industry and its relationship with Mental Health uses notifiable incident data as well as industry, regulatory and academic sources to examine fatigue management as well as the relationships between fatigue, safety, and mental health.
MISHC lead author Professor Tim Horberry said while the report shows good progress has been made on fatigue and fatigue management in Queensland mining, there is still room for improvement.
"The effort put into improving fatigue management at mine sites is very welcome – all the companies we reviewed had fatigue management systems in place that largely followed the QGN16 guideline," Professor Horberry said.
"Additionally, only around 2.5% of reported notifiable incidents in Queensland's mining industry had fatigue as a factor – that's far below the range typically recorded for road transport incidents."
"However, our comparison of data from Queensland with data from New South Wales and Western Australia provides more context, with fatigue incidents in Queensland slightly higher than in New South Wales and Western Australia."
"So there is room for improvement in Queensland, including to the relevant guideline – QGN16 – which may benefit from some updating.
"Areas that need more attention are often intangible and include better consideration of the long-term health effects of fatigue, investigating mental health outcomes, more use of technologies, and stronger corporate emphasis on fatigue management."
Commissioner for Resources Safety and Health Kate du Preez said understanding the state of fatigue management in Queensland's mining industry is the first step to improving fatigue management.
"Specifically, the report examined the process organisations employed to identify and implement procedural – soft – and practical – hard – controls to manage the risk of fatigue," she said.
"Analysis of current industry practice and regulatory frameworks showed that a greater use of fatigue detection technologies, addressing the legislative challenges sometimes faced when Queensland workplaces wish to implement fatigue management controls, and stronger emphasis on the importance of fatigue management could be implemented to improve safety and health outcomes."
"Now that we have a baseline, we know where the gaps are in the research, reporting, and practices related to fatigue and, as an industry, steps that can be taken to address them."
Access the report: Fatigue Management in the Queensland Mining Industry and its relationship with Mental Health
Media: SMI Communications; communications@smi.uq.edu.au / +61 (0) 447 812 081