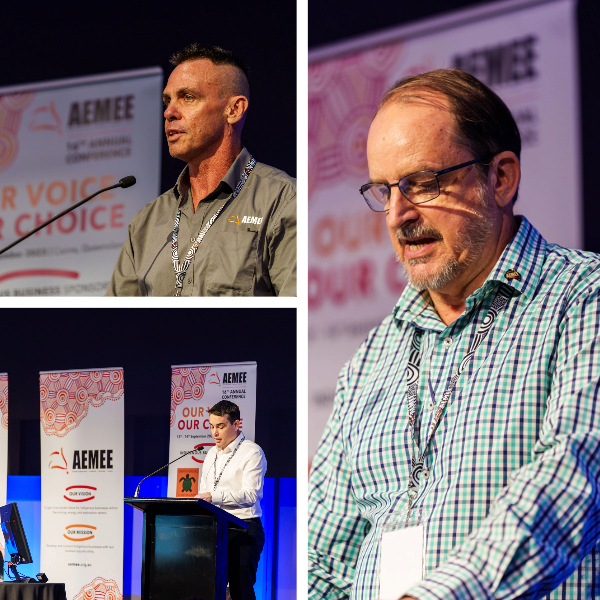 A collaborative project to benchmark how Rio Tinto Iron Ore works with Indigenous businesses has been showcased at the Aboriginal Enterprises In Mining, Energy & Exploration (AEMEE) Conference in Cairns.
Project partners AEMEE and researchers from the Sustainable Minerals Institute's Centre for Social Responsibility in Mining (CSRM) re-connected on stage to report on the benchmarking project which evaluated Rio Tinto Iron Ore's Indigenous business procurement processes to identify areas of good practice and where performance could be improved.
The evaluation was conducted using AEMEE's Indigenous Business Procurement Evaluation Checklist. The checklist was developed in 2018 to support resource companies and their major contractors to assess Indigenous business procurement practice within their supply chains.
CSRM Research Manager Rodger Barnes said the checklist, which was originally intended to be a self-evaluation tool for companies, offered a comprehensive framework to work from.
"The evaluation involved a desktop review of policies and procedures, as well as extensive personnel interviews," Mr Barnes said.
 "Together we worked with Rio Tinto's Sustainable Procurement team to fill in the pieces of the Rio Tinto procurement puzzle.
"Rio Tinto leadership as well as site and commercial staff provided first-hand insights into how different processes and guidelines actually work 'on the ground'.
"As a result AEMEE was able to make well-informed recommendations across the dimensions of the checklist, including policy development, internal cross-cultural competencies, management systems, sourcing strategies, and Indigenous supplier engagement."
AEMEE Chair Derek Flucker said the approach demonstrates the value of objectively evaluating procurement and business engagement processes.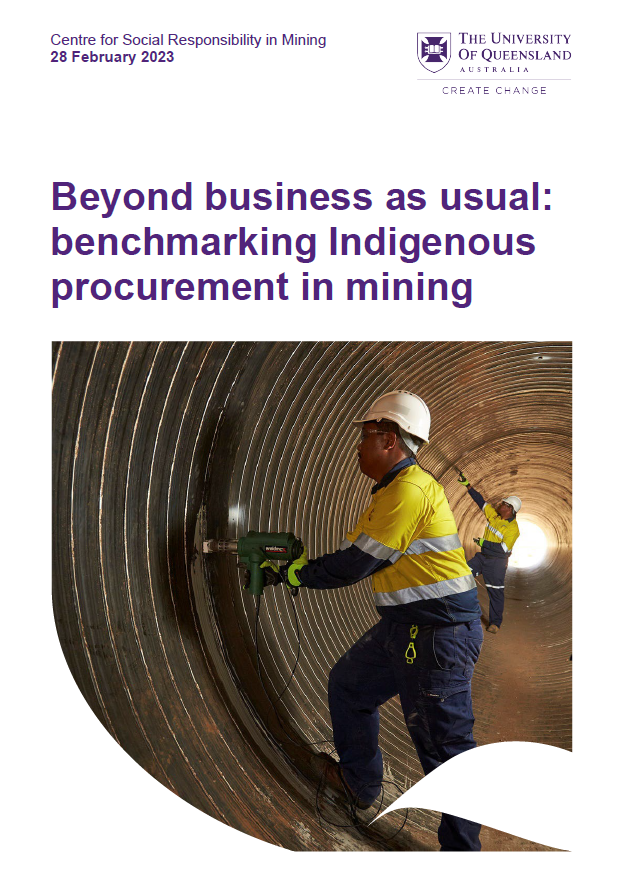 "At AEMEE, we are about building bridges between local Indigenous communities and their nearby projects and give locals real opportunities to improve their lives through wealth-creating jobs and businesses," Mr Flucker said.
"When Rio approached us, they were clear they wanted to work towards that goal by having their processes analysed by an independent party, so they weren't judging their own performance.
"This was the first time we used the checklist in this way, as it is usually for self-evaluation, but the results reflect how valuable an objective process can be and have encouraged us to continue doing it.    
"Our next step is now to create a standardized, accreditation process using the checklist; something that can benchmark a company's performance in Indigenous procurement and business engagement against best practice."
Rio Tinto Local & Sustainable Procurement Manager Matthew Plichta said the company was intent on transparently improving its Indigenous business procurement system through independent benchmarking.
"In AEMEE we found a technical authority that could evaluate our current performance and processes and provide recommendations for improvement – not just give us green ticks, but unbiased feedback," Mr Plichta said.
"The evaluation wasn't just about looking at the actual business processes – the nuts and bolts of procurement – but also at the internal and leadership culture. Those are critically important.
"After we received the results, we spent time taking management teams and managing directors, particularly in procurement, through them so everyone understood where we could improve and where we were doing well.
"Every company approaches this space differently, but hopefully through a process like this we can begin to understand those differences and move towards a common best practice."
The report, Beyond business as usual: benchmarking Indigenous procurement in mining, can be downloaded here.